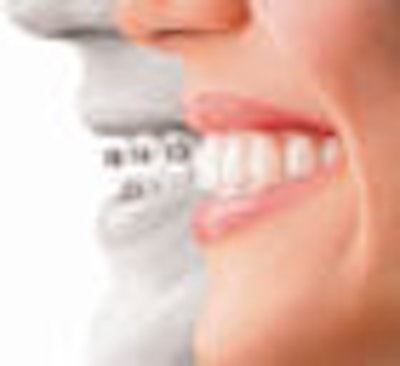 ClearCorrect, which makes a clear orthodontic aligner, this week sued to prevent Align Technology from claiming an infringement of its Invisalign patents.
"We simply want to be allowed to compete fairly in the market for clear aligners," said ClearCorrect attorney Randy McClanahan.
Align dominates the market for clear aligners with Invisalign, which launched in 1999. ClearCorrect, which started two years ago, has so far trained only 300 dentists, but the company is already making money, said CEO Willis Pumphrey, D.D.S.
Although Invisalign has never sued ClearCorrect for infringing on its patents, ClearCorrect sees that threat looming. Align has sued at least two other companies, Omcro and OrthoClear, alleging such violations. "We've watched the bloodbath of litigation that these parties have been involved in," McClanahan said.
In its formal complaint, filed in the U.S. District Court for the Southern District of Texas, ClearCorrect also accuses Align of "intimidation, threats of litigation, and litigation against consumers who prefer products offered by Align's competitors."
According to the complaint, at a recent dental conference, an Align representative "stated that ClearCorrect was started by the same individual who started OrthoClear, a former and now defunct competitor of Align. The Align representative also made the false statement that ClearCorrect's principals used Align's product and that 'most of them went to jail and now they are trying again to compete with us.' "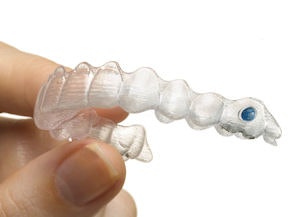 An Invisalign aligner. Image courtesy of Align Technology.
Asked about the incident, Shannon Henderson of Ethos Communications, the public relations firm hired to represent Align, said, "The allegations are without merit."
But beyond that, Align isn't prepared to comment, she said. "We don't know very much about ClearCorrect or its process, so we don't know if it violates our patents," Henderson said. "We just got the complaint this week, so our legal team will have to investigate."
ClearCorrect isn't seeking any money from Align, just a judgment that "Align's patents related to the manufacture and sale of a clear aligner therapy system are invalid."
Dr. Pumphrey previously used Invisalign in hundreds of patients, but his relationship with Align ended on a sour note and Align sued Dr. Pumphrey for breach of contract, trademark infringement, and copyright infringement (but not patent infringement). That lawsuit was settled to Align's satisfaction in 2007 by the payment of more than $330,000 to Align by Dr. Pumphrey and a stipulation by the parties that Dr. Pumphrey was decertified by Align, according to a company press release.
Dr. Pumphrey went on to improve on the Invisalign approach, he said. He listed four ways in which he thinks ClearCorrect differs from Invisalign: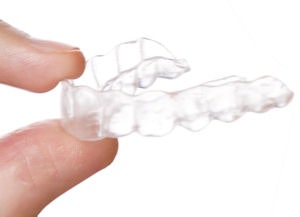 A ClearCorrect aligner. Image courtesy of ClearCorrect.
With the Align system, dentists make impressions of their patients' teeth, and Align manufactures a series of aligners all at once, each of which is intended to move the patient's teeth incrementally farther in the desired direction. By contrast, ClearCorrect makes its aligners in phases, with four sets of trays in each phase. Toward the end of each phase, the doctor analyzes the movement of the patient's teeth, makes another four sets of trays based on that analysis, and so on. This allows for easier midcourse correction, Dr. Pumphrey said.

The ClearCorrect system includes benchmarks that reveal whether the patients are wearing the aligners as much as they are supposed to wear them. "One of the major reasons clear aligners don't work is because of compliance," Dr. Pumphrey said.

ClearCorrect is less expensive. Dr. Pumphrey estimated his product would cost a doctor $995 for a treatment that would cost $1,800 using Invisalign. The savings "can be passed on to the patient, and I think in these hard times this is needed," he said.

The manufacturing process creates grooves in Invisalign aligners that can collect bacteria, giving the aligners a cloudy appearance. ClearCorrect has no such grooves.
However, Dr. Pumphrey said his company had not done any studies to validate the effectiveness of ClearCorrect, or to show that it is less likely to collect bacteria. The product got FDA approval, but only by showing it was similar to other products with approval, not by submitting evidence from clinical trials.
What's next? McClanahan said ClearCorrect is still waiting for Align to respond to his letter, saying essentially, "Let's make peace."
Copyright © 2009 DrBicuspid.com