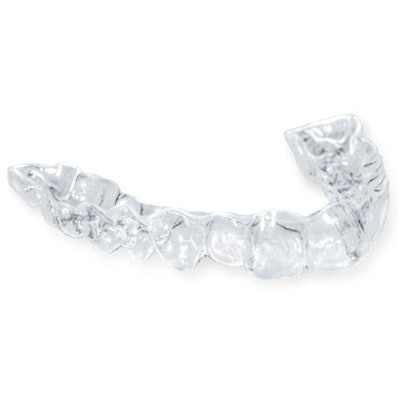 The 2019 American Association of Orthodontists (AAO) annual session concludes May 7. DrBicuspid.com brings you some of the most relevant new products and news for general practitioners from the meeting, including news from Ormco, 3Shape, and more.
3Shape partners with Ivoclar Vivadent
3Shape and Ivoclar Vivadent have announced a partnership to aid in aesthetic dental treatment.
The agreement allows dentists, dental labs, and orthodontists to use Ivoclar Vivadent's IvoSmile augmented reality technology with 3Shape orthodontic and restorative applications.
Orthodontic treatment can be simulated using 3Shape's Trios Simulator app and Ivoclar Vivadent's IvoSmile. IvoSmile uses live patient images taken on an iPad or iPhone for direct visualization during patient consultation for aesthetic dental makeovers.
Ormco previews new aligner system
Ormco previewed its new clear-aligner system at the AAO meeting.
The Spark clear-aligner system is made of the proprietary TruGEN material. The material allows the aligner to be more transparent with less staining and greater sustained force retention than other clear aligners, according to Ormco.
The system will be launched in the U.S. later this year.
Rocky Mountain Orthodontics showcases aligner
Rocky Mountain Orthodontics highlighted the Orthocaps aligner at the conference.
The aligner system includes a daytime aligner for comfort and aesthetics and a nighttime aligner for force-level customization and treatment efficiency. The aligner has a dual-layer polymer that provides a soft inner tray for grip and a firm outer tray for force application, according to Rocky Mountain Orthodontics.
The company's iSetup helps ensure accuracy and correct treatment plans, which reduces the time needed for an accurate fit. The aligner's thermoforming process creates a precise patient-specific tray.
Structo and uLab Systems announce partnership
Structo has announced a partnership with uLab Systems for clear-aligner manufacturing.
Structo's DentaForm 3D printer will now form part of uLab's uPrint network of 3D printers for in-office manufacturing of clear aligners.
The companies will collaborate to develop a module specifically for clear aligners that will automate the vacuum-forming and aligner-trimming processes of the manufacturing workflow. They will also continue to work together on more clear-aligner manufacturing solutions for the various market segments, according to the companies.
uLab also announced that it had reached the 13,000th case milestone for the company's aligner planning software, launched in summer 2018.
Inbrace names new VP
Inbrace has named Matt O'Connell as its vice president for sales.
O'Connell previously was with Ormco Europe. He will be responsible for sales, training, and education programs.