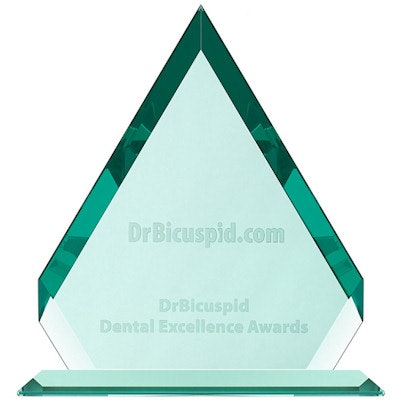 Who made it to the final round in this year's edition of the Cuspies? We are very excited to announce the people, products, and events that our readers selected as finalists in this year's event to recognize excellence in dentistry.
The finalists for the 2021 Cuspies awards embody the best and brightest in dentistry this past year. More than 700 DrBicuspid.com readers voted for their favorite candidates across 12 categories.
This was one of the most competitive years yet for the event: Some finalists were decided by just one vote. The 24 finalists stand out for their dedication to dentistry and hygiene training, innovative new products, and ability to capture the pulse of the dental industry in 2021.
In the next and final round of voting, our expert panel will select 12 winners from the finalists below.
Most Influential Dental Educator
Dr. Gordon J. Christensen, PhD
Dr. Gordon J. Christensen, PhD, is one of the most distinguished dentistry educators, having presented more than 45,000 hours of continuing education in his decades-long career. He is known for his well-attended lectures at conferences and dental industry events, as well as his highly regarded thought leadership articles in industry publications.
Tom Viola, RPh
Tom Viola, RPh, has presented more than 1,000 continuing education seminars and webinars since 2001. He is known for his unparalleled ability to make pharmacology information practical, useful, and entertaining for all members of the dental team. The ADA prominently highlighted his pharmacology expertise at the 2021 ADA SmileCon meeting, and he's featured in DrBicuspid.com's popular pharmacology video series Dental Dose.
Most Influential Hygiene Educator
Amber Auger, RDH
Amber Auger, RDH, is a speaker, author, coach, and consultant with more than 15 years of dental industry experience. Her expertise includes providing practical protocols for technology implementation, refocusing on the patient experience, and using systemic approaches to periodontal therapy.
Machell Hudson, RDH
Machell Hudson, RDH, is a full-time hygienist and expert on the oral-systemic connection. As the founder of Integrative Dental Coaching, she teaches dental teams how to implement oral-systemic protocols, confidently communicate with patients, and collaborate with medical professionals.
Best Dentistry Training Program
Harvard School of Dental Medicine
Established in 1867, the Harvard School of Dental Medicine consistently ranks as a top dental medicine institution in the U.S. The school offers Doctor of Dental Medicine (DMD), Master of Medical Sciences (MMSc), and Doctor of Medical Sciences (DMSc) degrees in addition to certifications in specialty fields.
University of Florida College of Dentistry
Founded in 1972, the University of Florida College of Dentistry strives for a well-rounded experience of education, research, patient care, and public service. The college boasts 16 degree and certificate programs, including a Doctor of Dental Medicine (DMD) degree and five Master of Science in Dental Sciences (MSD) degrees.
Best Hygiene Training Program
Massachusetts College of Pharmacy and Health Sciences Forsyth School of Dental Hygiene
Founded in 1916, the Forsyth School of Dental Hygiene touts itself as the longest continually running dental hygiene program in the U.S. Programs at Forsyth include both Bachelor of Science (BS) and Master of Science (MS) degrees in dental hygiene as well as a one-of-a-kind associate degree to Master of Science (AS to MS) bridge program.
New York University College of Dentistry
The New York University College of Dentistry offers two degrees through the department of dental hygiene and dental assisting: Associate in Applied Science (AAS) in dental hygiene and Bachelor of Science (BS) in dental hygiene. Students can complete the degrees through numerous tracks, including a fast track and advanced track.
Best New Imaging or CAD/CAM Product
iTero Element 5D Plus series, Align Technology
In February, Align Technology debuted its iTero Element Plus series. The system features all the capabilities of other iTero Element products but boasts faster processing times and advanced visualization abilities.
MouthWatch Plus+ HD intraoral camera, MouthWatch
MouthWatch released its highly anticipated MouthWatch Plus+ high-definition (HD) intraoral camera during the ADA's SmileCon2021 meeting in October. The camera features improved picture resolution, frame rate, and color rendering compared to the company's original intraoral camera.
Best New Hygiene Product
Aerosol Assist, Aerosol Assist
Aerosol Assist designed its hands-free autoclavable aerosol suppression system with the simplicity of a disposable product and functionality of an autoclavable aerosol removal device. Launched in January, it attaches to standard high-volume extraction (HVE) connections and works with a disposable saliva ejector.
The Loupe Shield, Ambience PPE
The Loupe Shield is an antiglare face shield designed to fit loupes. It was created by a Canadian dentist and his son, and DrBicuspid.com's article on the father-son duo was one of the most well-read stories of 2021.
Best New Restorative Product
Enamelast flavor-free fluoride varnish, Ultradent Products
In October, Ultradent added a flavor-free fluoride varnish to its Enamelast line. The varnish comes in a 5% sodium fluoride preparation and is sweetened with xylitol.
FluoroCal fluoride and calcium-releasing varnish, Bisco
Bisco released its fluoride and calcium-releasing varnish FluoroCal in April. Indicated for application to enamel and dentin, it provides a targeted and sustained release of calcium and fluoride over 24 hours.
Best New or Updated Dental Software
Dentrix Voice Perio, Henry Schein One
Henry Schein One inked a deal with Bola Technologies in January to distribute Dentrix Voice Perio speech recognition technology. Dentrix Voice Perio uses artificial intelligence to recognize and record periodontal results from hygienists and periodontists.
iTero Workflow 2.0 software, Align Technology
In June, Align Technology touted the release of its iTero Workflow 2.0 software. The software version provides sharper intraoral images for clearer details of hard and soft tissues.
Best New Consumer Product
Burstkids sonic toothbrush, Burst Oral Care
Burstkids unveiled the Burstkids sonic toothbrush in May. The brush comes with features tailored for children, including its small, ergonomic silicone handle and brush heads with soft, tapered bristles.
Philips Sonicare Power Flosser, Philips
Philips expanded its oral healthcare line with the Philips Sonicare Power Flosser, which it showcased at the ADA's SmileCon meeting in October. The flosser features an X-shaped nozzle design and a 90-second deep clean mode.
Most Significant News Event
The ADA's CDT Code D1355 goes into effect
On January 1, the ADA's new CDT Code D1355 went into effect. Practically, the new code allows dental practices to code for the application of silver diamine fluoride (SDF) on tooth surfaces diagnosed as high risk for developing carious lesions.
COVID-19 pandemic has major impact on hygienists workforce
One major story throughout 2021 was the effect of the COVID-19 pandemic on the dental workforce. Research showed that one in 12 dental hygienists dropped out of the workforce during the COVID-19 pandemic. In March, the numbers weren't much better, with one in 16 dental hygienists still not working.
Scientific Paper of the Year
COVID-19 among dentists in the United States: A 6-month longitudinal report of cumulative prevalence and incidence. Araujo M et al, Journal of the American Dental Association, June 1, 2021. Learn more about this study.
In a testament to the importance of infection control in dental practices, a study in the June issue of JADA found that dentists continue to be at a lower risk of SARS-CoV-2 infection than other front-line health professionals.
Dental trainees' mental health and intention to leave their programs during the COVID-19 pandemic. Chi D et al, Journal of the American Dental Association, March 12, 2021. Learn more about this study.
Burnout became a topic of conversation in 2021, and it was the focus of a March study from the University of Washington (UW). Researchers surveyed 126 dental trainees at the UW School of Dentistry to gauge how the COVID-19 pandemic affected their mental health and desire to leave the profession.
Hottest Dental Procedure
Clear aligners for orthodontic treatment
The dental industry still has a predilection for clear aligners for orthodontic treatment, which reflects in its finalist status for the Hottest Dental Procedure in 2021. Dentsply Sirona, 3M Oral Care, and SmileDirectClub made major moves in this market last year. Also, the Board of Dental Examiners of Alabama agreed to no longer impede teledentistry companies from providing clear aligner therapy through remote treatment.
Laser dentistry for periodontal treatment
The use of lasers for periodontal treatment was also named as one of the hottest stories of the year, and for good reason. Some experts tout lasers as a way to produce fewer aerosols during the COVID-19 pandemic. New research also showed the power of lasers for treating peri-implantitis.