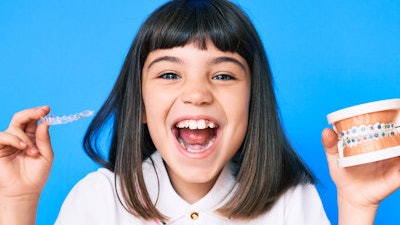 Clear aligner therapy is emerging as a popular orthodontic treatment in children with a mix of primary and permanent teeth, and orthodontists expect its use to grow, according to a study published on March 9 in the American Journal of Orthodontics and Dentofacial Orthopedics.
Also, orthodontists perceive better oral hygiene in patients with clear aligners compared to those with fixed appliances, the authors wrote.
"It may be beneficial for orthodontists to consider CAMD (clear aligners in the mixed dentition) instead of FA (fixed appliances) with child patients for whom they anticipate oral hygiene difficulties," wrote the authors, led by Dr. Nicholas Lynch of the department of orthodontics, school of dentistry, at Virginia Commonwealth University in Richmond.
For two decades, clear aligners have been an orthodontic treatment option for adults. In 2008, the therapy was updated for use in late mixed dentition, but it wasn't until 2019 that clear aligners for early mixed dentition were developed. However, there is limited high-level evidence on the efficacy of clear aligners in children with primary and permanent teeth.
To explore the latest trends and perspectives among orthodontists regarding clear aligner therapy in patients with primary and permanent teeth, 181 orthodontists were asked to complete a survey comparing fixed appliances and clear aligners in patients with mixed dentition. Of the respondents, 149 orthodontists were considered a generalizable group that was representative of the orthodontist population in the U.S. The other 32 respondents were part of a group that was specifically targeted as high-aligner-use practitioners, according to the study.
Though the use of clear aligners was less common than fixed appliances in patients with primary and permanent teeth, 60% of orthodontists predicted a rise in their future use in the next five years. Of those who expect an increase, 32 orthodontists (18%) forecasted a significant rise in use, and 71 clinicians (40%) predicted a moderate increase, the authors wrote.
Perceived oral hygiene was rated significantly higher on average compared to fixed appliances (8.1 vs. 6.1; p = <0.0001), they wrote. The study had no limitations.
Overall, more orthodontists used fixed appliances than clear aligners for patients with mixed dentition. However, a change may be coming.
"The possible benefits of CAMD -- such as improved oral hygiene -- are likely factors prompting providers to consider this appliance," Nicolas and colleagues wrote.