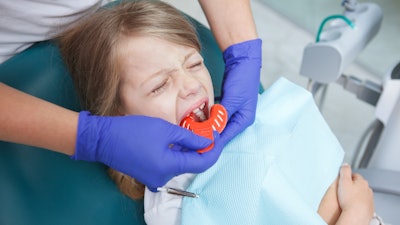 A clinical psychologist at the University of Arkansas has received a $450,000 federal grant to train dentists in the state on how to effectively handle child anxiety.
Lauren Quetsch, PhD, received the award from the U.S. National Institute of Dental and Craniofacial Research (NIDCR) to train general and pediatric dental providers in Arkansas on evidence-based, child behavioral management skills to enhance young patient compliance and reduce dental anxiety.
"Research shows that our dental habits are established early in life," Quetsch said in a news release from the university. "By making the experience of going to the dentist a positive one while children are small, we may be able to promote life-long healthy behaviors."
The grant is part of a seven-year, $2.9 million award from the NIDCR to provide training to dental providers in West Virginia, North Carolina, Florida, and Arkansas.
The award will provide support for planning and implementing a pilot trial of several dental offices within Northwest Arkansas in the first two years. The remaining five years will focus on expanding the training throughout the state for any child-serving (ages 2 to 10 years old) dental providers, according to the release. The researchers will assess dental providers during training days and within their clinics to determine skill gains and child outcomes.
"This may also reduce emergency dental visits and avoid more severe forms of child behavior management such as restraint or sedation in the dental operatory," Quetsch added.
In addition to the $450,000 grant, the university will receive an additional $184,000 in indirect costs to support extra, related expenses. Besides Quetsch, co-investigators include Kimon Divaris of the University of North Carolina; Kirt Simmons, Henry Chu, and Swati Sharma of the University of Arkansas for Medical Sciences; and Christa Lilly of West Virginia University.