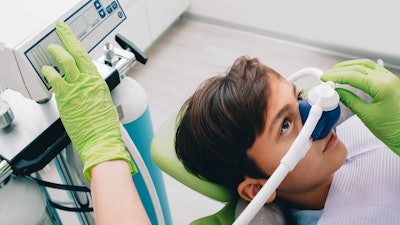 The progression of children's dental fear may not be solely dependent on the type of sedation they receive during restorative treatment, according to a study published on April 5 in the International Journal of Paediatric Dentistry.
Factors, including children's oral health and their parents' poor dental experiences, may also predict whether kids' dental fear will progress. This is believed to be the first study to investigate dental fear before and after dental restorations among children who had no prior dental treatment, the authors wrote.
"A better understanding of the long-term effects on dental fear of receiving care under different types of sedation will help dental providers tailor their treatment recommendations to optimize outcomes for their pediatric dental patients," wrote the authors, led by Lisa Heaton, PhD, of the CareQuest Institute for Oral Health in Massachusetts.
Using the Children's Fear Survey Schedule Dental Subscale (CFSS-DS), the prevalence of high dental fear is estimated between 6% and 27%, and fear is reported more often in younger versus older children. To reduce fear and manage disruptive behavior during treatment, dentists often administer nitrous oxide or general anesthesia to pediatric patients.
To explore factors linked to dental fear changes after restorative treatment under nitrous oxide or general anesthesia in children, the authors conducted a prospective cohort study of 124 children between the ages of 4 and 12. Of those, 68 were treated while under nitrous oxide, and 56 were administered general anesthesia. Data, including demographics and fear levels, were gathered at pretreatment, 16 weeks after treatment, and at 29 months follow-up, according to the study.
Between pretreatment and the 29-month follow-up, dental fear in children increased slightly, though not significantly, under nitrous oxide or general anesthesia. Consistent increases in CFSS-DS scores, with an average increase of 3.3 points overall (95% confidence interval [CI] = 0.22 to 6.32) were seen in patients, the authors wrote.
Interestingly, pediatric patients whose parents reported a poor experience with their own dentists (mean change = 9.57, 95% CI = -1.69 to 20.83) and those whose parents reported their own oral health as poor (mean change = 7.26, 95% CI = -7.33 to 21.86) showed mean changes in their CFSS-DS scores between pretreatment and follow-up. However, the changes were not statistically significant, they wrote.
The study had multiple limitations, including that one item assessing parents' prior experience with a dentist was used as a proxy for parental dental fear and may not completely reveal the dental fear construct of the children's parents, the authors wrote. The study suggests that pediatric dentists should consider pretreatment dental need, the child's level of fear, and their parents' prior dental experiences and self-perceived oral health when recommending sedation for patients, they wrote.
"There is no clear evidence from this study that sedation using nitrous oxide or general anesthesia is associated with either increases or decreases in post-treatment dental anxiety," Heaton and colleagues concluded.