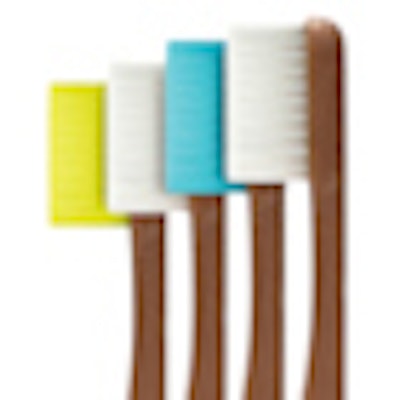 If your patients are maintaining good dental hygiene, chances are they are throwing away multiple toothbrushes in the trash every year.
But as part of a growing trend, two U.S. companies have launched eco-friendly toothbrushes in an attempt to alleviate this and help reduce the amount of plastic sent to landfills.
LittleBonsai, a Boston-based product studio founded by Olin College graduates Jake Felser and Ollie Haas in May 2011, is developing a portfolio of household products designed to help reduce the amount of preventable waste in our lives. Their latest offering is the ReBrush.
"We are focusing on household products that are cheap and expendable, like the toothbrush, which you toss out," Haas said. "We want to change that."
"Our toothbrush handle feels like a premium pen."
— Oliver Haas, LittleBonsai
The ReBrush features a replaceable head that is not recyclable but can be changed every three months and a handle made from annodized aluminum that can last for years, according to the company.
LittleBonsai is focused on both craftsmanship and environmental value, Haas told DrBicuspid.com. ReBrush is a "design lifestyle" toothbrush made from materials that have never before been used in this product category, he noted.
"Our toothbrush handle feels like a premium pen," he said. "When people pick it up, they get it. It has a heft in their hand."
LittleBonsai estimates that by switching to ReBrush the average consumer can cut their toothbrush waste by up to 80% over two years. And although similar products are on the market, Little Bonsai differentiates itself from them in terms of craftsmanship and design. LittleBonsai's target customers are environmentally and design-conscience consumers.
Consumer research
The process of creating the toothbrush started with user research, where Haas and his team visited people's homes and talked to them about toothbrushes in terms of the look, style, and feel.
"Half of that session was actually spent codesigning with them," Haas explained.
After multiple rounds of design and prototyping, they finalized the handle design. For the brush head, they collaborated with dental experts and hygienists to come up with a simple and effective bristle design. A patent-pending attachment mechanism provides a secure connection between the replacement heads and the reusable toothbrush handles.
The production-ready prototypes are currently being finalized, and LittleBonsai expects to begin manufacturing at the end of November. The product will be manufactured entirely in the U.S. ReBrush toothbrushes deliveries are expected to begin in February 2013, and the toothbrushes will initially be available online from the LittleBonsai website.
Each ReBrush will come with a one-year supply of four replacement heads available with soft or medium bristles for $25. Additional replacement heads will be available on the LittleBonsai website and at select retail partners.
LittleBonsai is clear that the main benefits of ReBrush are its design and the fact that is it environmentally friendly.
"In terms of function, our aim was to make it as effective as the other toothbrushes out there," Haas said. "We don't claim that it cleans better, but it cleans just as well."
Biodegradable materials
Meanwhile, over in St. Paul, MN, a brother and sister duo has launched a toothbrush that is 100% biodegradable.
Bogobrush had its beginnings in Jamestown, ND, where John and Heather McDougall grew up as children of a dentist. After they finished school, they set out to bring more environmental and social awareness into people's daily routines.
Together with a team of collaborators, they decided to reimagine the toothbrush.
"We thought that a product you use to start your day and finish your night deserved the highest possible attention to design," John said.
Sculpted from bamboo, Bogobrush's handle has a cylindrical, minimalist form that fits in any hand. The brush's bristles are made from biodegradable nylon and can stand up to months of regular use, according to the company.
Bogobrush is currently available for preorder at bogobrush.com, where you can purchase a single, limited-edition Bogobrush for $10 plus shipping and handling, or a one-year supply and receive a new Bogobrush at your door every three months for $40 with free delivery. Bogobrush will also start appearing in select retail outlets early in 2013.
Consumer demand
Toothbrushes with eco-friendly benefits have entered the market in the last couple of years, in response to an uptick in consumer demand for eco-friendly oral care products, according to Ina Pockrass, JD, co-founder of the Eco-Dentistry Association.
Pockrass called this an exciting trend and noted that a number of such brushes are also popping up in the U.K., Australia, and Canada.
"There are 100 million Americans who self-identify as values-based consumers, and being a green dentist is a way to connect with those patients, and offering an eco-friendly toothbrush is a representation of their environmental awareness," she said.
An estimated 450 million toothbrushes are sent to landfills every year in the U.S., and a lot of plastic waste ends up in the oceans, she added.
"Many times, marine animals and birds mistake our dumped toothbrushes for food," Pockrass said.
These issues are compounded by the fact that toothbrushes should be replaced every three months, so the opportunity to create a product that eliminates a huge percentage of this waste is innovation at its finest, she added.
"Dentists and hygienists are in the perfect position to help reduce the waste generated from toothbrushes," Pockrass concluded.