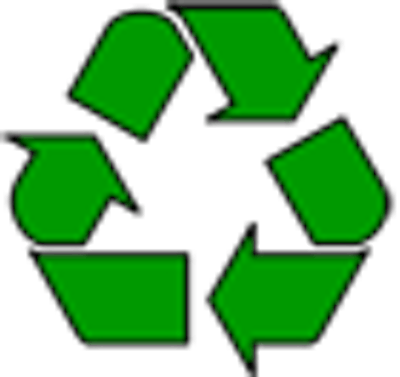 "Going green" is not only environmentally friendly, it's also economically savvy for dental practices, according to a presentation at the recent ADA Annual Session in San Francisco. Adopting eco-friendly practices can save dentists thousands of dollars a year, in addition to preserving natural resources.
Green dentistry reduces waste and pollution; saves energy, water, and money; incorporates high tech; and supports a wellness lifestyle, according to Ronald D. Perry, DMD, a clinical professor at the Tufts University School of Dental Medicine and a member of the Eco-Dentistry Association (EDA). Dr. Perry was a panelist at the ADA session, "Green Dentistry: Making a Difference in Your Practice and Your Community."
Some of the biggest ways practices can save money while preserving natural resources is by switching from disposable dental supplies -- including chair covers, sterilization wraps and pouches, patients bibs, and light handle covers -- to reusable and recycled products.
Even little things make a big difference: Letting the water run while brushing your teeth can use 2 to 5 gallons of water, the panelists noted.
"Going green, to the extent we can, is in the best interests of everyone," Dr. Perry said.
Amalgam separators
Dental offices remain the leading contributor of mercury to local wastewater treatment, according to the panel. One of the most critically important, eco-friendly steps a dentist can do is install an amalgam separator, which cost less than $1,000 and doesn't take up a lot of space. They are now mandatory in 12 states, and the U.S. Environmental Protection Agency may require them by the end of 2012, Dr. Perry noted.
Many dentists think they don't need separators because they don't place amalgams, only remove them. But the EDA contends there's more amalgam waste in practices that don't place amalgams than those who do because they do so much removal, according to Dr. Perry.
The panelists recommended using mercury-free alternative materials for fillings such as porcelain, composites, glass, and gold, because they are better for patients' health as well as the environment.
Eco-friendly cassette sterilization method. All images courtesy of the Journal of the Canadian Dental Association.
Another way practices can save money and help the environment is by incorporating high-tech processes.
For example, switching from conventional x-ray systems to digital imaging technology eliminates the use of toxic chemicals and lead foils, in addition to exposing patients to 90% less radiation, according to the panelists. With up to $10,000 in operational savings per year, the switch to digital x-rays can pay for itself in about two years, they noted.
Another important step in adopting a paper-free digital workflow can be achieved by using practice management software for digital scheduling and charting.
Boosting the bottom line
Many dentists may be surprised to find that disposables actually increase supply costs, according to the panelists.
Choosing disposable paper or plastic rinse cups instead of reusable substitutes alone can cost a practice $178 or more per year. And one dentist reported a reduction in material costs of up to 30% after shifting to energy-conserving supplies, according to the EDA.
Infection control is another area where going "green" makes a big impact, especially in high-volume disposable items such as barrier sleeves, syringe tips, and plastic cups.
Disposable items for infection control and sterilization can cost a dental practice as much as $2,337 more each year than making the "greener" choice of reusable items.
Dentists are encouraged to use autoclavable products instead of disposables when practical, such as using stainless steel suction tips, prophy angles, and cups. For instance, a large disposable autoclave pouch costs about $0.20 per use, while a reusable pouch costs about half as much.
Switching to reusable stainless steel tips and steam sterilization can save dentists $3,500 a year, using tooth-colored restorations will save a whopping $37,000, and digital imaging and patient charting will save nearly $9,000 a year, according to architect Robert Elfer, who owns Studio Troika in Malden, MA, which has designed several green dental offices.
Switching incandescent light bulbs for compact fluorescent or light emitting diode (LED) bulbs will produce significant savings because they last so much longer, Elfer said.
He noted that incandescent light bulbs only last about 1,200 hours and cost about $328 per year, while compact fluorescent bulbs last 8,000 hours and only cost $76 per year. And LED bulbs are even more economical, lasting a remarkable 50,000 hours and cost only $33 per year.
Steam-based, surgical-grade sterilizers don't use harmful chemicals and reduce water use, while eco-friendly evacuator tips will keep 100 million suctions tips from going into landfills every year.
Practices can also save money through tax credits and rebates. Dentists can deduct the cost of energy-efficient property installed in commercial buildings up to $1.80 per square foot. And such measures significantly reduce heating, cooling, water heating, and lighting costs, the panelists noted. (Click here for tax information about environmental grants, loans, and incentives.)
Eco-friendly methods for infection control include using the following:
Cloth lab coats and sterilization pouches
Reusable barriers
Biodegradable, nontoxic cleaners and disinfectants
Eco-friendly hand sanitizers and line cleaners
Reusable face and eye shields
Biodegradable ultrasonic solution
Patients prefer green businesses
Marketing your practice as green differentiates dentists in the marketplace, the panelists noted.
A majority of dental patients think companies have a responsibility to help preserve the environment and would switch products and services based on environmental benefits, they said.
Here are other recommendations for a green office:
Use nontoxic paint, known as low VOC (volatile organic compounds), for remodels.
Install energy efficient lighting, such as compact fluorescent light bulbs, and use LCD computer monitors and Energy Star appliances.
Use a trash compactor, which can reduce waste to one bag of trash per week.
Eliminate paper charts to create a system that scans patient procedures directly to a computer.
Recycle inkjet cartridges, paper products, batteries, and outdated computers.
Use natural, nontoxic soap products and recycled copy paper.
Install low-flow toilets and low-flow aerators on sinks.
Invest in a dry vacuum system.