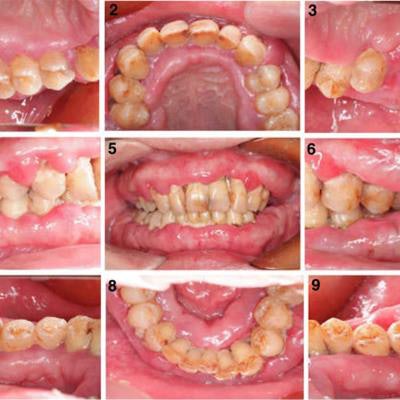 A 38-year-old man was diagnosed with a rare case of immunoglobulin G4-related periodontitis after presenting with severely enlarged gums. The case was published on May 28 in BMC Oral Health.
The findings can help dentists gain insight into immunoglobulin G4-related disease (IgG4-RD), a chronic inflammatory systemic condition. Patients who present with an abnormal accumulation of fluid and gingival hyperplasia should undergo serological examination and possibly a biopsy and other testing to prevent misdiagnosis, the authors wrote.
"IgG4-RD in the oral and maxillofacial region mainly involves salivary glands, but this rare case was characterized by enlarged gingiva," wrote the group, led by Dr. Jinmei Zhang from West China College of Stomatology, Sichuan University, in Chengdu, China.
Life-threatening disease, unknown etiology
IgG4-related disease is an immune-mediated disorder of unknown origin that often causes the enlargement of one or more organs, as well as tumorlike masses in the body, including the pancreas, major salivary glands, aorta, lungs, and kidneys. However, it rarely affects the gums. The disease can be missed because it imitates many other infectious and inflammatory diseases.
To diagnose a patient with IgG4-RD, the patient's tissues must have the histologic features of lymphoplasmacytic infiltrates enriched with IgG4 plasma cells, storiform fibrosis, and obliterative phlebitis. The disease is highly treatable if detected early; if not, IgG4-RD can lead to increased morbidity and mortality.
In the current case, a 38-year-old man was experiencing gingival enlargement, loose teeth, and tooth loss and went to the hospital's periodontics department. His primary complaint was generalized gum enlargement, which sometimes included pus, that went on for about two years.
The patient said his teeth had begun loosening several months earlier, and he lost his left maxillary first molar following severe pain. He was referred to the hospital after a dentist diagnosed him with periodontitis, according to the authors.
Other than smoking for 20 years, the patient was healthy. He had no obvious abnormalities in the head and neck, but an intraoral exam showed he had very poor oral hygiene and nearly every tooth was covered in plaque and debris.
There was calculus from his incisors to his molars, and his gums were enlarged and red. The patient had bleeding on probing, deep periodontal pockets, and attachment loss. His salivary gland ducts opened normally, and there were no specific findings related to the glands.
The man underwent a panoramic x-ray, which showed he had generalized alveolar bone loss, especially alveolar bone resorption at the left first and second premolars. Also, he underwent a bone marrow exam that showed no abnormalities. Finally, tests for AIDS, syphilis, hepatitis B and C, and Mycobacterium tuberculosis came back negative.
On the other hand, a serological blood exam showed that his C-reactive protein level was high, at 14 mg/L (normal range, 0-10 mg/L). His serum IgG was 23.70 g/L (normal range, 8.00-15.50 g/L), and his IgG4 concentration was 2.800 g/L (normal range, 0.035-1.500 g/L), according to the authors.
The patient was placed under anesthesia, and 10 gingival samples were taken for testing. Histological analysis of hematoxylin and eosin staining showed ulceration, a large infiltration of lymphoplasmacytic cells, a storiform pattern of fibrosis, and mitotic figures. He was given a preliminary diagnosis of plasma cell granuloma. Immunostaining showed the scattered infiltration of 10 IgG4-positive plasma cells in the high-power field. Finally, the patient underwent a positron emission tomography/computed tomography (PET/CT) scan, which revealed he did not have cancer or changes in other organs.
Based on the findings, his condition was regarded as inflammatory, and two months later, the hospital's department of rheumatology and immunology diagnosed the patient with IgG4-related periodontitis. He was treated with oral corticosteroids and periodontal therapy. After six months of treatment, the man's gum swelling improved. The rheumatologist recommended he continue taking oral corticosteroids daily and return for checkups every three months. His periodontist suggested the man quit smoking and receive supportive periodontal therapy every three months.
More studies needed
Researchers are currently working to develop better standards to diagnose IgG4-related diseases more quickly and accurately; however, more studies are needed to better understand the relationship between IgG4-RDs and periodontitis, the authors noted.
"We hope this case report and the literature review can help dentists to improve their understanding of the IgG4-RD," Zhang and colleagues concluded.