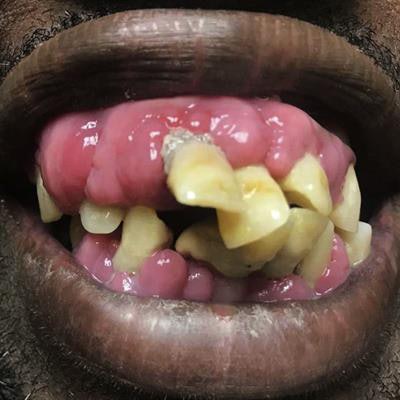 The use of a common medication for high blood pressure led to gingival overgrowth in a man with poor oral health. Details of the case were published on November 14 in the Journal for Nurse Practitioners.
Due to a lapse in dental insurance, the man's care was delayed, and he plans to have all teeth extracted in the near future. Dental professionals can help prevent similar adverse outcomes by educating patients about the possible side effects of calcium channel blockers (CCBs), emphasizing the importance of good dental hygiene, and closely monitoring patients' gums.
"When starting CCBs, patients should be informed of this rare but serious adverse effect and told to report any teeth or gum changes immediately," wrote the authors, led by nurse practitioner P. Suzanne Portnoy, the associate program director of street medicine for CommuniCare Health Centers in Yolo County, CA.
Ordinary medication, extraordinary outcome
In the U.S. and worldwide, high blood pressure is a leading cause of death and mortality. To manage hypertension, many patients are prescribed calcium channel blockers such as amlodipine. In the U.S., amlodipine is prescribed more than 70 million times annually, according to the authors.
Portnoy and colleagues described the rare adverse event of amlodipine-induced gingival overgrowth, which is characterized by an increase in the volume of connective tissue matrix in the gums. Several factors, including gingivitis due to poor oral hygiene, genetic predisposition, and being male, put a person at greater risk of developing drug-induced gingival overgrowth, they wrote.
Typically, amlodipine-induced gum overgrowth is diagnosed based on comorbidities, symptoms, medication profile, lab results, and physical exam. If the growth is left unchecked, it may cause pain, tooth loss, psychosocial suffering, and financial burden.
Health conditions and no dental care
In the current case, the patient was an obese 52-year-old man diagnosed with high blood pressure, prediabetes, and left ventricular hypertrophy. For his conditions, he had been taking 10 mg of amlodipine, 40 mg of lisinopril, and 25 mg of hydrochlorothiazide daily for seven years.
A few years after starting amlodipine, the patient noticed that his teeth started to move; however, he did not connect this to the medication. Due to inconsistent health coverage and fear of the dentist stemming from getting braces as a teen, the man had not been to the dentists for years. The patient had no other symptoms, and his vital signs were normal, according to the authors.
A physical exam revealed that man had firm, pink, moist overgrown gum tissues, displacing most of his teeth. Based on his history, the exam, and a lack of any other pathology, the man was diagnosed with amlodipine-induced gingival overgrowth and instructed to stop taking the medication.
The patient was advised to continue taking his other medications, as well as measure his blood pressure once a day and keep a log of the readings. He was told to return to the facility in two weeks.
Unfortunately, the patient missed the follow-up appointment, and not long after, he lost his insurance coverage. More than a year later, he obtained insurance through his new employer and sought care with a different healthcare facility. The man's teeth remain loose and disorganized, which causes pain and difficulty eating. He plans to have his teeth removed in the coming months, the authors wrote.
More common than believed?
During just the past four years, 17 cases of amlodipine-induced gingival overgrowth have been reported, the authors noted. A review of the research suggests that the prevalence of amlodipine-induced gingival overgrowth may be higher than 1% -- greater than what is reported in prescriber and patient resources. Therefore, cohort or controlled trials should be conducted to explore this specific adverse event, they added.
Drug-induced gingival overgrowth should be considered the top differential in patients with swelling that started after the initiation of amlodipine and who have no symptoms indicating serious pathology. Also, patients should be referred to an oral surgeon for treatment planning, the authors wrote.
"Gingival overgrowth is an underappreciated side effect of amlodipine and is more common in patients with poor dental hygiene," Portnoy and colleagues wrote.