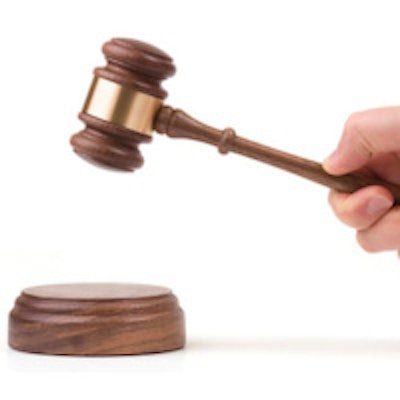 A Connecticut law restricting nondentists from shining light-emitting diode (LED) teeth-whitening lights on customers' teeth survived a challenge after the U.S. Supreme Court declined to review the case.
The February 29 ruling leaves in place a 2015 appellate court decision that upheld the policy of the Connecticut State Dental Commission and threatens teeth-whitening entrepreneurs with fines and jail time if they position low-powered LED teeth-whitening lights in front of their customers' mouths.
In June 2011, the dental commission issued a ruling that only licensed dentists are permitted to provide certain teeth-whitening procedures. Connecticut health authorities subsequently sent teeth-whitening business Sensational Smiles a letter telling it to stop or face legal action.
"By allowing this ruling to stand, the Supreme Court has imperiled the rights of entrepreneurs throughout New York, Connecticut, and Vermont," said Paul Sherman, the Institute for Justice attorney (IJ) attorney who argued the case for Sensational Smiles, in a statement.
The IJ filed the lawsuit in 2011 on behalf of Sensational Smiles owners Tasos Kariofyllis and Steve Barraco, who were forced to close their business after the dental commission's ruling.
The IJ noted that the LED lights are no more powerful than household flashlights, pointing out it is legal to make the lights available for customers to position in front of their own mouths.
Appellate Judge Guido Calabresi wrote in the court's 2015 ruling that "much of what states do is to favor certain groups over others on economic grounds. We call this politics."
Attorney Sherman said the appellate ruling means "the government is now allowed to shut down your business simply because it likes your competitors better."
After the IJ filed suit, the dental commission abandoned most of its policy, which now only prohibits nondentists from positioning LED teeth-whitening lights in front of their customers' mouths.
"Unfortunately, by refusing to take this case, the Supreme Court has allowed a longstanding disagreement among the federal courts to stand," stated IJ co-counsel Robert McNamara in a press release.
More than 30 states have taken action against nondentist teeth whiteners, according to the IJ. The public advocacy group is challenging a similar prohibition in Georgia.
In February 2015 the U.S. Supreme Court ruled that the North Carolina State Board of Dental Examiners lacks the authority to regulate nondentist teeth-whitening services, finding that the board is anticompetitive because it is mostly composed of dentists.
In June 2015 the Alabama Supreme Court upheld a state law restricting nondentists from offering teeth-whitening products and services.
IJ President Scott Bullock said economic protectionism is unconstitutional.
"Across the country, occupational licensing boards are using government power not to protect the public, but to protect their members from honest competition," Bullock stated in a release.