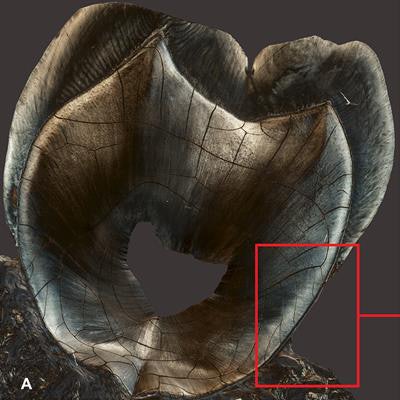 Teeth provide a true, permanent historical record of a person's major life events, including pregnancy, illness, relocation, and incarceration, according to a new study published March 25 in Scientific Reports.
From tooth formation to death, physiologically impactful events leave permanent changes in the microstructure of dental cementum, and they can be timed accurately, the researchers noted.
"Our results demonstrate that dental cementum constitutes a chronologically faithful biological archive of an individual, from which life history milestones, thus far not inferable from other mineralized tissues, can be detected and accurately timed," wrote the authors, led by Paola Cerrito, a doctoral candidate at the New York University Department of Anthropology and College of Dentistry.
Better understanding the life history pattern
Many aspects, including an extended postreproductive life span and short interbirth intervals, have helped create the life history pattern of recent humans. However, it has been difficult to test the unusual evolution of this pattern due to the fragmentary nature of the hominin fossil record and the lack of methods capable of inferring such later life history events.
The study, which was supported by a grant from the National Science Foundation and the Max Planck Research Award, aimed to identify markers of childbirth, menopause, and other physiological stressors in human dental cementum.
Researchers analyzed the cementum microstructure of 47 human teeth, which were taken from 15 individuals from its skeletal collection. The life history events, including age, illnesses, and relocations, were known and had been reported from subjects' next of kin.
They used a series of imaging techniques that illuminated cementum rings, and linked each of them to different life stages, revealing connections between tooth formation and other occurrences, according to the study.
Mineralized tissues, such as enamel, dentine, and cementum, form incremental layers that are related to repeated physiological cycles from the time the tooth surfaces in the mouth. These annual layers can be interpreted in a similar way to a tree's growth rings. These abnormal growth lines in these tissues affect normal matrix formation, leaving distinctive permanent marks that correlate to events, such as birth, weaning, malnutrition, disease, climate, and lifestyle changes.
Researchers were able to detect reproductive events and menopause in all females, as well as other stressful events, like systemic illnesses and incarceration in other subjects, with a high level of accuracy. The evidence proves that the tooth is not a dead organ, but instead continuously changes and responds to physiological events, according to the researchers.
Though the study shows significant relationships between physiologically stressful events and changes in dental cementum, it was not without limitations. It is impossible to determine what changes, like illness or relocation, affect the cementum microstructure without having a subject's medical and lifestyle records, the authors wrote.
The impact of lifestyle choices
These findings show that drastic changes in lifestyle affect teeth, the authors concluded.
"Our results support the growing body of knowledge showing that mineralized tissues have a fundamental role participating in organismal physiology, endocrinology, and mineral homeostasis," they wrote.