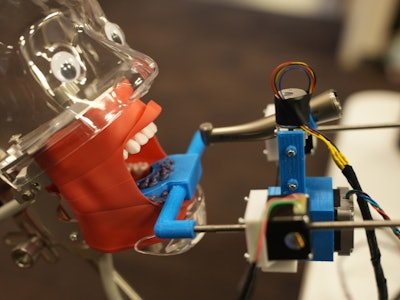 Image courtesy of South Dakota Mines.
Students at the South Dakota School of Mines and Technology are highlighting an initial prototype they developed that may one day lead to remote robotic dentistry.
The students worked with a dentist for over a year to develop the prototype. The goal was to create an automated device that a hygienist can set up in a facility or practice. The prototype might help increase access to dental care in underserved communities.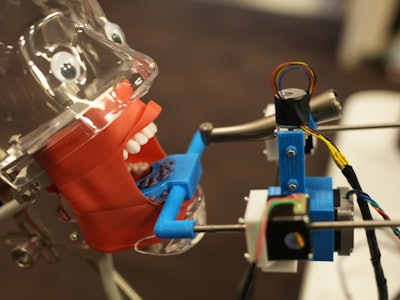 In addition, the device could allow dentists to remotely oversee work, such as cavity filling, by using the device's robotic extension. One of the students, senior Logan Jundt, said in a Mines News article that an end goal is to have a 3D-printed filling ready to be inserted into a "predetermined cutting pathway."
The prototype uses custom 3D-printed dentistry impression trays to secure the device to the mouth. Some parts, including the trays, the students added, can be disposed of after each procedure to avoid the need to sterilize the entire device between each use. The device also includes a dental handpiece with three dimensions of movement to reach the area needing attention.
The students said they recognize that their prototype could take many more years to develop and undergo many refinements; however, in the future, robots could assist dentists with many common dental procedures.