The U.S. Army Medical Test and Evaluation Activity partnered with the U.S. Army Medical Materiel Development Activity in September to test three expeditionary dental treatment devices at Fort Liberty, NC.
Medical developers and evaluators from the two organizations worked directly with soldiers belonging to the 257th Medical Company (Dental Area Support), 44th Medical Brigade. The tests explored the real-world utility of the field portable dental system (FPDS), the dental filmless imaging system (DFIS), and the dental amalgamator as part of a wider modernization effort to help meet the future frontline dental care needs of U.S. service members. During the scenario-based training, the teams captured data to help inform development strategies and ensure the suitability of the equipment for military use near the frontlines of future wars.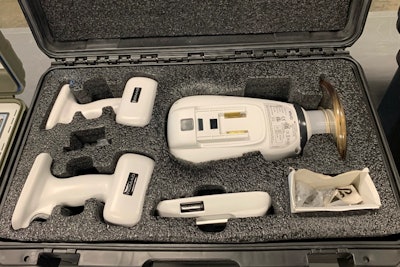 The FPDS has a battery-operated handpiece for routine care and treatment in a field environment. Soldiers in the field can recharge the unit using a standard outlet, vehicle batteries, or solar panels. Once fully charged, the device can operate for up to 72 hours.
The DFIS, which is stored in a portable hard case, is used to perform dental x-rays in the field with a laptop. It comes with two intraoral sensors, an intraoral camera, and alignment rings. Deployed soldiers can use the DFIS to capture, store, and transmit x-ray images and patient data for treatment and documentation.
The dental amalgamator shakes and mixes amalgam capsules containing mercury and dental alloy particles, such as silver, tin, zinc, and copper, for providers to administer dental fillings in the field.
The teams highlighted that the advantages of the three tested devices are their commercial availability and compact, portable designs. The devices give providers the ability to perform routine and emergent dental care closer to the frontlines. The activity teams also highlighted that the success of these devices signals the future of dental care in the military.
The report was initially published by the Defense Visual Information Distribution Service.