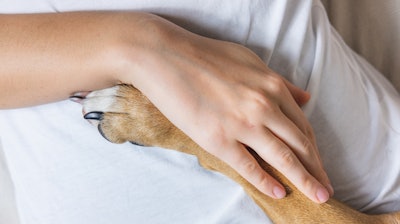 Dental students at the University of Colorado Anschutz report that having a therapy dog present during clinic visits reduced stress for military veterans, according to a story on the school's website.
For the school's Dental Research Day, Lexi Dunnells, a medical student and master's degree in public health candidate, led a study that monitored stress levels for a cohort of military veteran patients when a therapy dog named Ziggy was present. The study enrolled 20 patients -- 10 who interacted with Ziggy and 10 who didn't during their visits.
The students took patients' blood pressure and pulse before, during, and after their appointments. Ziggy attended a wide variety of appointments in the student clinic, including cleanings, general checkups, fillings, and denture fittings.
"We had a statistically significant decrease in pulse for the group that had Ziggy present from the beginning of the appointment to their pulse reading at the end of the appointment," Dunnells said in an interview.
Dunnells added that she presented the study to the school's dean, who was receptive. The school will bring therapy dogs to the student clinics officially starting this June.