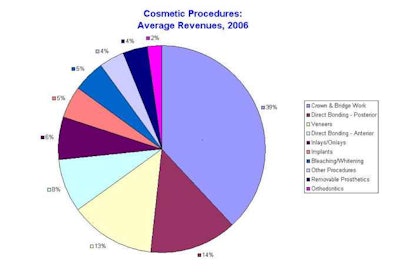 How much are patients willing to pay for cosmetic procedures? $495,000 per practice, per year! Or so calculates an American Academy of Cosmetic Dentistry survey. Based on responses from 5,500 members, the big picture is pretty big: Cosmetic procedures earned dentists $2.75 billion in 2006, a 15% increase over 2005.
Some other notable findings:
The projected number of cosmetic dental patients, based on survey results, was approximately 485 patients per practice, and 2.69 million in total. That's a 12.8% increase over 2005.

33% of the patients were male, and 67% were female.

On average, 53% of the patients were between the ages of 41 and 60. About 16% were 30 or younger, and 11% were over 60.

The greatest amount of revenue was generated from crown and bridge work. On average, a cosmetic dentist performed 333 procedures per year, generating $194,000 in revenue. Runners-up included direct bonding -- posterior ($69,000), veneers ($67,000), direct bonding -- anterior ($43,000), and inlays/onlays ($33,000).
"The cosmetic dental boom is showing no signs of slowing down," the AACD stated in a press release. "U.S. cosmetic dentistry practices are typically well-established in their communities, having been in operation on average for 19 years. About half are located in suburban areas, while the other half are about evenly split between urban areas and small towns."