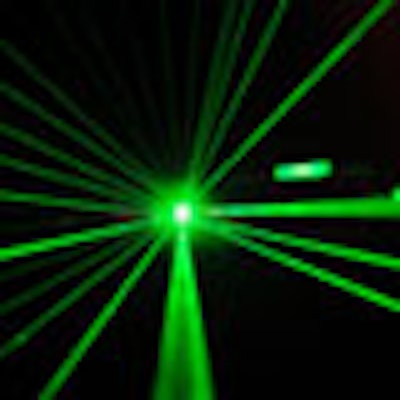 After 10 years of practice, Todd Meeks, D.D.S., was burnt out on dentistry. Then he saw the light at the end of the tunnel -- and it was coming from the end of a carbon diode laser.
Speaking at the 24th annual meeting of the American Academy of Cosmetic Dentistry (AACD) last week in New Orleans, this general dentist from Fort Wayne, Ind., described how lasers have changed his practice, his productivity, and his outlook on dentistry.
"They're a lot more comfortable for the patient. There's less need for anesthesia,
less discomfort."
Lasers make many soft-tissue procedures easier, opening up new opportunities for generalists, Dr. Meeks said. "It's amazing what laser technology allows me to do that years ago I never would have thought of doing," he said. "Work I used to refer out to oral surgeons I now keep in the office."
For example, Dr. Meeks uses the diode to perform operculectomies and frenectomies, remove growths and lesions, recontour gingival tissue, reduce the pain of aphthous ulcers, and prepare patients for crowns and other cosmetic work.
These operations are simpler with lasers because laser surgery requires less suturing and anesthesia and causes less bleeding. "The beauty of the laser is that after it ablates the tissue, the tissue is sealed, sterilized, and protected by a bio dressing," Dr. Meeks said. "It also desensitizes the nerve endings, which is why you have very little postoperative discomfort."
Lasers offer a big advantage over electrosurgery as well because the laser vaporizes the cells, cauterizing the tissue as it creates the incision.
Another benefit: faster procedures, which leads to enhanced productivity. Dr. Meeks said he charges $75 per tooth for a simple five-minute operculectomy or $325 for a frenectomy -- and, he added, most insurance plans will pay for laser procedures.
Drilling down on cost
Though dental lasers first appeared in the early 1990s, less than 5% of general dentists use them in their practices today, according to Biolase Technology, a leading maker of hard-tissue lasers. So why aren't more general dentists using lasers in their operatories? The main reason is cost.
Soft-tissue diode lasers start at around $8,000, but for many procedures they're replacing an electrosurgery unit, which uses electric current to cut gum tissue but costs less than $1,000. Whether you should invest in the new technology depends on how much periodontal work you do, said Ronen Rotem, D.D.S., a cosmetic dentist in Toms River, N.J.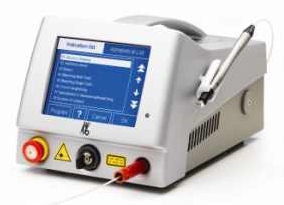 "Soft-tissue lasers are very effective for removing necrotic tissues during gum treatment," said Dr. Rotem, who uses a soft-tissue laser for such procedures. "But if you don't do much periodontal treatment in your office, the cost would not make sense."
Hard-tissue lasers such as the Er:YAG (erbium-doped yttrium aluminum garnet) are in a different cost bracket entirely. Though they can be used for a much broader range of procedures, such as drilling teeth and cutting bone, they can cost $80,000 or more.
Yet Robert Lowe, D.D.S., a cosmetic dentist in Charlotte, N.C., and an AACD lecturer on the use of lasers in cosmetic and restorative dentistry, said the return on investment for hard-tissue lasers came fairly quickly for his practice.
"People are always kicking the tires and asking, 'How can I afford to spend $80,000 for a piece of technology in my office?' " Dr. Lowe said. "On a slow month in my office, I perform at least 10 restorative procedures [using a hard-tissue laser] at $350 apiece. Do the math. There's just no way you can't pay for this thing and do better dentistry."
Many dentists see the hard-tissue lasers simply as replacements for diamond-tipped drills, but that's the wrong way to look at them, said Doug Young, D.D.S., an associate professor and laser expert at the University of the Pacific School of Dentistry in San Francisco.
"Hard-tissue lasers don't drill any better or worse than a traditional drill," he said. "But they're a lot more comfortable for the patient. There's less need for anesthesia, less discomfort. I use lasers because they benefit the patients in my care." (To watch a video of a hard-tissue laser ablating a carious lesion, go here.)
A new way of working
Although the lasers tend to be easier to use for some procedures, you'll still have to count on a learning curve if you want to make optimum use of them.
Using a laser involves more than simply learning how to operate the tools; it requires a less tactile, more visual way of doing dentistry. "When you use an erbium or soft-diode laser, you're not actually touching the tissue, so you are relying on visual cues much more than you would if you were touching the tooth with a burr," said Glenn van As, D.M.D., a practitioner from North Vancouver, British Columbia, who also presented at the AACD panel on lasers.
Dentists interested in lasers may also want to invest in dental microscopes, which have their own learning curves and costs, he said. "With any magnification better than 4x to 6x, you can actually see better than you can feel."
Lasers also introduce new safety hazards, Dr. van As cautioned. Looking at a diode laser can damage your retina as far as 8 feet away. Erbium hard-tissue lasers can affect the cornea and the lens of the eye within roughly a foot of the device. "It's absolutely imperative that you use some form of filters on your loops or microscope, particularly when using a diode," he said.
Some states, like Nevada, require dentists to undergo certification before using a laser. Others don't. Most manufacturers offer training courses to dentists who've purchased their equipment, but that may not be enough, Dr. Young said.
Blazin' lasers
Overall, though, using lasers in general dentistry is becoming more common, particularly as soft-tissue lasers get smaller and more affordable.
"We have seen a huge surge of interest in this technology," Dr. Lowe said. "I don't think you can be at the top of your game as a cosmetic or restorative dentist without the ability to manipulate [both] the hard and soft tissue, at least for minor aesthetic change."
Dr. Young said many dentists who've used electrosurge units are switching to diode lasers because they cause less collateral damage, making them a better choice for dental-phobic patients and children. "I wouldn't let a dentist use electrosurgery on my child," he said. "Hands down, a soft-tissue laser is preferable."
Even dentists who've rejected lasers in the past are starting to see the light.
"I haven't purchased a soft-tissue laser because I felt the cost didn't justify the so-so results," said Jason A. Cohen, D.D.S., a general, cosmetic, and implant dentist in Chevy Chase, Md. "Now that the units are becoming more portable, usable, and effective, it's a much better investment for my practice and my patient care. If it makes my life easier, my dentistry better, my patients more comfortable -- and improves my treatment results -- it's going to be worth it in the long run."
Dan Tynan writes about technology (the nondental kind) on his blog, Tynan on Technology.