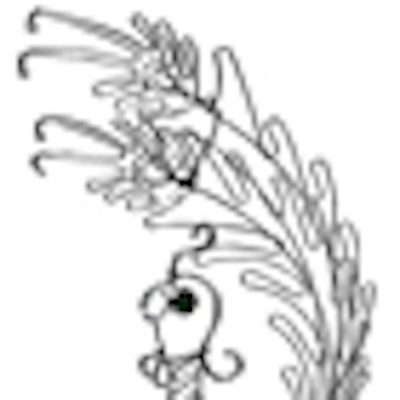 For one winner, a love of working with his hands inspired him to use nearly 300 ft of ortho wire to create a chess set unlike any you've seen before.
For the other, it was love for his soon-to-be wife.
"Besides the monetary part, there is a lot of pride in this."
— Daniel Nguyen, D.D.S.
In both cases, the winners of the 7th Annual Hu-Friedy Wire Bending Contest say they would do it all over again. The competition is open to residents, established clinicians, and assistants who submit works of art made from single or multiple orthodontic wires. This year's entries were displayed in May at the Hu-Friedy booth during the annual American Academy of Orthodontics convention, and the winners were announced in July.
"We are pleased to sponsor this fun-filled and exciting event," said Hu-Friedy President and CEO Ron Saslow in a press release. "These entries are representative of the important role orthodontic practitioners play in the dental community, creating beautiful smiles by the blending of science and art."
Symbol of love
Daniel Nguyen, D.D.S., a California orthodontist who won $1,000 worth of Hu-Friedy instruments for his sculpture, "Phoenix," said he wanted to show the public something more about orthodontists and "showcase what we do."
"Besides the monetary part, there is a lot of pride in this," he said.
Dr. Nguyen actually created the Phoenix two years ago when he was still at the University of California, Los Angeles, earning his orthodontics degree.
"It is a tradition at UCLA for every second-year resident to come up with a wire-bending project for the Christmas party," he said. "And that year I got engaged, and in Asian culture, especially Chinese and Vietnamese, it is a tradition to have decorations involving the phoenix and the dragon. So I decided to make a phoenix to symbolize my wife. It is a symbol of loyalty, virtue, and grace, of something that is inseparable."
It took him about three hours a day over the course of a week to create the continuous-wire sculpture, he said. It is made out of silver ortho wire that he got for free.
"I would look at pictures and drawings on the Internet and sketch it out," Dr. Nguyen said. "My first prototype wasn't continuous wire, but I was known for my wire bending during school. Still, it took a lot of trial and error."
Good with his hands
Aaron Swapp, a first-year resident at the Baylor College of Dentistry who took home the top prize of $3,000 in Hu-Friedy instruments for his chess set, said he entered the competition because, "like most dentists, I like working with my hands and building things."
"I like winning competitions."
— Aaron Swapp, first-year resident,
Baylor College of Dentistry
"It was a challenge," he said. "And there was a chance to win those free instruments."
Swapp didn't keep track of how long it took him to create the chess set, but he said the hardest part was figuring out how to do things such as the 3D spiral design and creating dual colors.
"I spent more time thinking about how to make it," he said. "Mostly I was trying to figure out how to accomplish what I had envisioned."
For example, most ortho wire is silver, but he needed two colors. He used some short gold wire for the second board color, but each of the chess pieces took up to 3 ft of wire apiece, he said.
"You wouldn't think so, but winding them around like that took a ton of wire," he explained.
He then had the bright idea of using heat to change the color of the wire and thus create two sets of playing pieces in opposing colors.
"Silver wire, if you heat it, will change color," he said. "So I took a torch to it until it turned gold, and then cooled it off. That's how I got the two colors."
In all, Swapp used about 200-300 ft of wire, some of it donated by the school, some of it paid for out of his pocket. He said he will definitely compete again next year, and already has two ideas in mind.
"I like winning competitions," he said.
Copyright © 2010 DrBicuspid.com