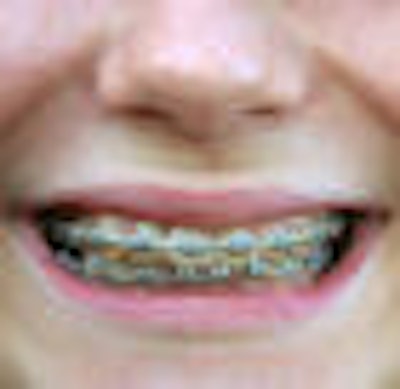 White-spot lesions (WSL) are a common complication of orthodontic treatment, but their presence can result in a negative perception of the treating orthodontist by the patient's general dentist, according to a new study in the Journal of the American Dental Association (July 2012, Vol.143:7, pp. 777-783).
WSLs remain the most common complication of fixed orthodontic appliance therapy and can form within four weeks -- the typical length of time between orthodontic appointments, according to the study authors from Virginia Commonwealth University.
Good oral hygiene, such as brushing with a toothpaste containing fluoride concentrations of 0.1% or greater, can help prevent WSLs, they noted, and for patients who are not fully compliant, dentists should encourage the use of a fluoride mouth rinse on a daily basis.
For this study, the researchers used a cross-sectional survey design that was sent to general dentists and orthodontists in Virginia, Maryland, and North Carolina. The final sample included 191 general dentists and 305 orthodontists. Two different surveys were sent: one for general dentists and one for orthodontists.
The first two questions in each survey asked respondents for their sex and years of practice experience. Other questions inquired about the percentage of their orthodontic patients with WSLs associated with braces and when they recommended in-office fluoride for patients with a severe case of WSLs.
The survey also asked general dentists how often, in the previous year, they had treated WSLs associated with braces, as well as their methods of treatment and if their perception of the orthodontist is negatively affected by the presence of multiple WSLs.
The researchers asked orthodontists how often in the previous year they had removed braces because the patient had poor oral hygiene and what they recommended patients do when they have severe WSLs at the debonding appointment.
More collaboration needed
Here are some of the study's findings:
General dentists reported that a median of 20% of their patients had WSLs associated with braces; orthodontists reported that a median of 10% of their patient had WSLs associated with braces.
69% of general dentists and 76% of orthodontists recommended in-office fluoride treatment for patients with severe WSLs immediately after orthodontic treatment.
69% of general dentists reported that they had treated WSLs during the previous year; 37% of orthodontists reported that they had removed braces because of patients' poor oral hygiene.
General dentists used a variety of methods to treat WSLs, including at-home fluoride rinse, resin-based composite or porcelain veneers, tooth whitening or in-office fluoride, microabrasion, and MI Paste with Recaldent.
60% of orthodontists referred patients with severe WSLs to their general dentists for treatment; others recommended at-home fluoride rinse, MI Paste with Recaldent, in-office fluoride, tooth bleaching, prescription fluoride toothpaste, and mild enamel microabrasion.
85% of orthodontists responded that they encouraged patients to use a fluoride rinse as a preventive measure.
More than one-third of general dentists indicated that severe WSLs after orthodontic treatment could have a negative effect on their perception of the treating orthodontist. According to the researchers, this is a noteworthy result because general dentists typically are the source of referrals to orthodontists.
"General dentists and orthodontists should work together to prevent the development of WSLs in their patients," the authors concluded. "Treatment with fluoride supplements and motivating and training patients to practice good oral hygiene will help achieve this goal."
Compliance key factor
A related study by some of the same researchers found patient compliance to be the most important factor in preventing WSLs (American Journal of Orthodontics and Dentofacial Orthopedics, March 2012, Vol.141:3, pp. 337-344).
For this study, the researchers considered the perceptions of patients, parents, orthodontists, and general dentists toward the development of WSLs during orthodontic treatment.
They surveyed 315 orthodontic patients, 279 parents, 305 orthodontists, and 191 general dentists, and found that all groups attributed primary responsibility for the prevention of WSLs to the patients and thought that the general dentist should be responsible for treating WSLs. Patients also regarded themselves as ultimately responsible for the prevention of WSLs.
"All groups indicated that patients were the most responsible for the prevention of WSLs," the study authors concluded. "Communication among patients, parents, orthodontists, and general dentists needs to improve to decrease the incidence of WSLs in the orthodontic population."