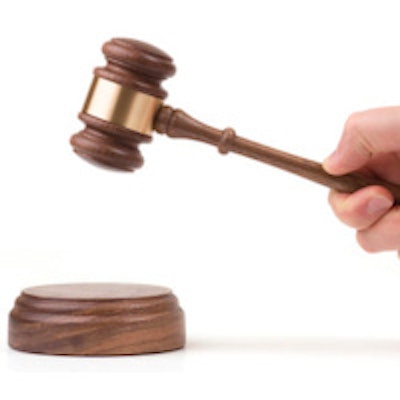 An Alabama judge has upheld the state's law restricting nondentists from offering teeth-whitening products and services. The ruling noted cases in which people's lips and gums were burned by whitening chemicals and confirmed the Legislature's authority to pass laws to protect the public's health.
The ruling stems from a 2013 lawsuit against the Alabama Board of Dental Examiners by Keith Westphal and Joyce Osborn Wilson, who claim the law is an unconstitutional attempt by the state's 3,600 dentists to create a monopoly and is an illegal restriction on business.
"The factual record in this case amply demonstrates actual or potential risk."
— Jefferson County Circuit Judge Elisabeth French
Westphal, a nondentist who whitens teeth in North Carolina, wanted to expand into Alabama but was not able to because of the law. And Wilson, an Alabama resident, got a cease-and-desist letter from the state after the law took effect and was forced to stop selling teeth-whitening products.
The dental board argued that the law is justified because teeth-whitening poses a potential threat to public health.
In her October 3 ruling, Jefferson County Circuit Judge Elisabeth French noted that "the commercial whitening of teeth is an activity that involves health and safety concerns that are appropriate for governmental regulation."
Teeth-whitening services are typically offered in mall kiosks, salons, and spas, and there are at least a dozen different types of nondental teeth-whitening systems being used in the U.S., the ruling stated.
Keith Westphal
Westphal's website touts the effectiveness and safety of BeamingWhite tooth-whitening products, which use a pen applicator and hydrogen peroxide. The product's guide warns that it uses "16% hydrogen peroxide, the highest concentration in the cosmetic teeth whitening industry." The guide further warns franchisees that "16% hydrogen is a very strong gel and, therefore, is NOT suitable for home use, where customers will use it without your supervision and may hurt themselves." The guide repeatedly prohibits technicians from having direct contact with a customer's teeth.
The guide also warns that teeth whitening should not be performed on pregnant women, or on people who have poor tooth enamel or decalcification, have periodontal disease, gingivitis, or gums in poor condition, wear braces, recently had oral surgery, have decaying teeth, exposed roots, or open cavities, or have a history of allergies to peroxide products, the ruling stated.
Westphal doesn't take medical histories or ask about allergies, according to court papers. He leads customers to chairs in a treatment room, where they are given protective glasses. Wearing gloves, Westphal then gives them a cheek retractor and instructs customers how to put it in place.
In "direct violation" of the guide, Westphal uses an applicator pen to apply whitening gel directly to the teeth for most of his customers, the judge noted.
Westphal then positions an enhancing light in front of the customer's mouth, inspects the results of a whitening session, and immediately repeats the process as many as two more times if the customer requests, the ruling stated.
Joyce Wilson
Wilson operated a beauty salon and spa in Jasper, AL, for 26 years and, beginning in 2005, offered teeth-whitening services. She provided a whitening product, instructed customers how to use it, and provided a chair and enhancing light for the application process. Wilson formed a business that develops and sells BriteWhite teeth-whitening systems for use in salons, in dentist offices, and at home.
She has sold several thousand BriteWhite systems nationwide to hundreds of businesses, according to the ruling. But in 2006, Wilson got a letter from the dental board instructing her to stop offering teeth-whitening services. She subsequently sold her salon and has been out of the spa and salon business.
Injuries incurred via teeth-whitening services
Michael Maniscalco, DMD, a Birmingham dentist who does teeth whitening for most of his patients, has seen patients who sustained peroxide burns of the lips and gums and also cases of extreme sensitivity to the whitening agents, according to court documents.
Kenneth Tilashalski, DMD, a dentist and professor at the University of Alabama at Birmingham School of Dentistry, cited published articles documenting "significant damage and pain resulting from a nondentist teeth-whitening," the decision stated.
"Nondentist teeth whitening fails to address whether teeth whitening is appropriate for a particular individual, possibly leading to causation or worsening of oral injuries or disease," Dr. Tilashalski testified. "Without foundational dental training, nondentist teeth whitening may be performed in a way that causes injury or illness."
"Health and safety concerns arise when nondentist practitioners do not follow established protocols for teeth-whitening products and equipment, such as Mr. Westphal's practice of personally applying chemicals directly to the teeth of his customers," he added.
"Nondentist teeth whitening is not likely to improve a person's oral health or motivate them to go to the dentist," partly "because they have spent their dental care budget on teeth cleaning rather than actual dental care," Dr. Tilashalski also testified.
In addition, he cited ADA's "concerns about the long-term safety of unsupervised bleaching procedures, due to abuse and possible undiagnosed or underlying oral health problems."
"Although published studies tend to suggest that bleaching is a relatively safe procedure, investigators continue to report adverse effects on hard tissue, soft tissue, and restorative materials," according to the ADA Council on Scientific Affairs.
Dr. Tilashalski also described "an acute flare-up following the use of a gel bleaching system on a discolored maxillary central incisor." The case showed "the importance of determining the preoperative pulpal states prior to any vital bleaching procedure and suggests that bleaching agents in a vehicle gel can diffuse into the pulp system and cause an alteration of both the pulpal and periradicular status of a tooth," he told the court.
There are "numerous studies which exhibited microstructural changes of dental hard tissue induced by bleaching agents, especially when peroxides are applied in high concentrations," Dr. Tilashalski said.
Conclusion
The "Dental Practice Act's restriction on teeth-whitening is substantially related to public health and welfare," Judge French concluded. "The factual record in this case amply demonstrates actual or potential risk."
The judge also cited a 2009 case in which the Alabama Supreme Court rejected similar claims. The plaintiff had argued that its teeth-whitening services merely provided an over-the-counter product that was self-administered by the customer in a salon.
The trial court ruled that the sale of teeth-whitening products and services constituted the practice of dentistry as defined by the Dental Practice Act. And the state Supreme Court affirmed, finding that "dental services" should be interpreted to mean "a helpful act or useful labor of or relating to the teeth," and the teeth-whitening process constituted a "dental service."
In both cases, the plaintiffs argued that the teeth-whitening agent they sell is available over the counter, and they do not apply the product to the customer's teeth but merely assist the customer in doing so. But "the relatively "hands-off" whitening services at issue in the 2009 case were found to be the provision of dental services, and, therefore, the practice of dentistry and subject to statutory regulation, Judge French concluded.
Notably, Alabama's Dental Practice Act was amended in 2011 to expand the definition of "practice of dentistry" to include a person who performs teeth bleaching.
Plans to appeal
Westphal and Wilson were represented by the Institute for Justice, and attorney Paul Sherman said he will appeal the case to the Alabama Supreme Court, according to an Associated Press story. It is unreasonable to require someone to have eight years of higher education before they can sell over-the-counter products that customers can apply to their own teeth, Sherman said.
The U.S. Supreme Court will hear arguments on October 14 in a similar teeth-whitening case involving the North Carolina State Board of Dental Examiners.