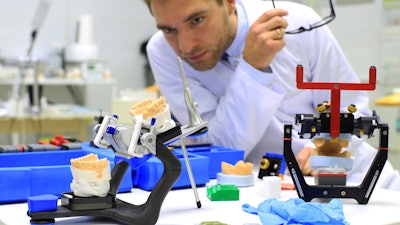 Dental laboratory Leixir Dental Group is partnering with the Care 1st Dental Institute, a newly established clinical education and training organization based in Texas, to offer training to dental professionals.
Care 1st was founded and led by Drs. David Chei and Jaebum Lee. It focuses on providing education and training in oral surgery and implantology, as well as technology, including intraoral scanning and photogrammetry.
Leixir operates a network of dental laboratories that offer a range of prosthodontics, including dental implants and full-arch restorations, as well as intraoral scanner training. The two organizations will offer training to dental professionals across the U.S.
Training and courses will be held at the Care 1st facility in Carrollton, TX, which features a 20-plus person lecture room, an in-office dental laboratory, and four operatories, including one operatory equipped with audiovisual connectivity to enable remote monitoring, and at Leixir's centers in Baltimore; Tampa, FL; and Providence, RI.