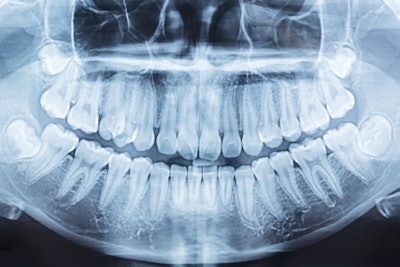 The American Academy of Oral and Maxillofacial Radiology (AAOMR) no longer recommends patients' reproductive organs and fetuses be covered during dental imaging, according to guidance published August 1 in the Journal of the American Dental Association.
Additionally, the academy recommends discontinuing thyroid shielding during intraoral, panoramic, cephalometric, and cone-beam computed tomography imaging, the authors wrote.
"This position statement informs and educates the reader on evolving radiation protection practices and provides simple, unequivocal guidance to dental personnel to implement these guidelines," wrote the authors, led by Dr. Sanjay Mallya, BDS, PhD, of the Section of Oral and Maxillofacial Radiology, School of Dentistry, University of California, Los Angeles.
Shielding is a common practice used to reduce radiation exposure to sensitive tissue. In general, gonadal shielding is a long-standing practice during imaging that aims to reduce the risk of radiation-induced hereditary effects, and it is required by law in many states in the U.S. The practice has continued even though the reasoning for it has been challenged and organizations have recommended it be discontinued, according to the statement.
As for thyroid shielding, it aims to cut the risk of radiation-caused thyroid cancer. This risk has been corroborated by old and new evidence.
To establish evidence-based recommendations and clinical guidance for patient contact shielding dental and maxillofacial imaging, the academy created an ad hoc committee. The committee reviewed literature and reports from radiation protection organizations and studies that reported radiation dose to gonads, breasts, and the thyroid gland from dental imaging, the authors wrote.
Following the review, the committee found that it was no longer necessary to shield reproductive organs and fetuses during intraoral, panoramic, cephalometric, and CBCT imaging. This recommendation was made due to the lack of radiation-caused hereditary effects in humans, as well as that reproductive organs and fetuses are exposed to negligible doses during dental imaging, the authors wrote.
Based on radiation doses from contemporaneous dentomaxillofacial imaging, it is recommended that thyroid shielding no longer be used during intraoral, panoramic, cephalometric, and CBCT imaging considering that "the overall population radiation exposure with intraoral radiography has negligible effects on thyroid carcinogenesis," they wrote.
Since these new recommendations counter long-held and well-accepted practices, special attention must be given to pregnant, pediatric, and apprehensive patients, they wrote.
Therefore, dentists and their teams must effectively communicate to patients that there are no substantial risks to performing imaging, and there is no benefit from shielding during the procedures.
"Eventually, it remains the responsibility of the health care provider to address the patient's concerns and increase their confidence in the evidence-based care provided," Mallya and colleagues wrote.