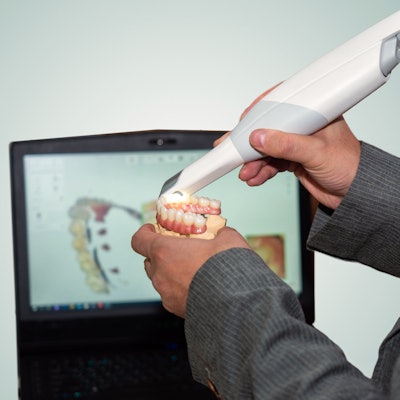 After studying its suitability for identifying early tooth wear, researchers concluded that Align's iTero intraoral scanner is a suitable screening tool for detecting tooth wear in routine dental practice, according to a study published on August 2 in the International Dental Journal.
Tooth wear is a prevalent issue in the oral healthcare system. The causes of tooth wear can be classified into mechanical wear, which encompasses abrasion, attrition, and abfraction and chemical wear as erosion.
Regardless of the etiology and clinical presentation of the type of tooth wear, all lead to the structural loss of the tooth surface and changes in the tooth anatomy. Besides the potential discomfort that tooth wear may cause, it is an irreversible event that can increase the complexity and cost of treatment.
Early detection and diagnosis are beneficial so that the necessary preventative and therapeutic measures can be taken to mitigate the condition. Tooth wear is commonly diagnosed from clinical inspection and a review of the patient's history. Researchers claim that these steps may not be enough to detect the early signs of tooth wear.
By introducing and developing intraoral scanners for dental applications, dentists can detect tooth wear sooner with more accuracy. In the study, researchers evaluated the suitability of intraoral scanning in detecting early tooth surface loss from tooth wear.
For the study, 20 premolars were prepared, fixed in acrylic blocks, and scanned using Align's iTero Element 2 intraoral scanner and a micro-computed tomography (CT) scanner for baseline reference images before artificial tooth wear induction. The samples were scrubbed with abrasive sandpaper, then scanned with the intraoral scanner.
The images were then superimposed with the reference images using the scanner's time-lapse feature until tooth surface loss was indicated. The data were analyzed for sensitivity, positive predictive value (PPV), and accuracy.
"In the detection of experimental tooth surface loss, the specificity, PPV, and accuracy of the intraoral scanner were 98%, 98%, and 97%, respectively," wrote the study authors, led by Dr. Somsak Mitrirattanakul of Mahidol University in Thailand (Int Dent J, August 2, 2022).
It is well known that choosing or developing a diagnostic test to detect the presence of any condition is challenging yet crucial. While tests should ideally have both 100% sensitivity and specificity, "such standards are likely to be unrealistic," Mitrirattanakul and colleagues wrote. It is commonly found that tests with high sensitivity tend to have low specificity and vice versa.
Micro-CT is highly reliable and popular in the health sciences. Micro-CT was selected as the gold standard in this study because of its low discrepancy and small voxel size. Cone-beam CT would not be suitable due to its inability to detect minute differences.
Intraoral scanners are becoming an essential asset in dental practices, as they are noninvasive and convenient. Patients can easily be scanned during routine dental visits.
Once the cause of tooth wear can be defined, a course of action can be offered to the patient, such as behavior modification, occlusal splints, and orthodontic treatment.
"The iTero intraoral scanner can be recommended to be a suitable screening tool for tooth wear in routine dental practice," Mitrirattanakul et al concluded.
Note: The authors did not disclose any conflict of interest. The study was funded by the authors and the institution.