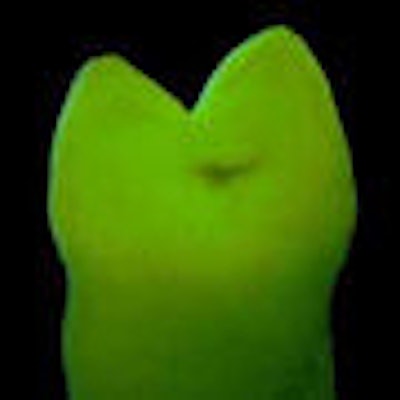 For years the mineral loss from enamel and dentin has been known to alter the optical properties of teeth. Now some technology developers are hoping to capitalize on this phenomenon with a diagnostic device that uses fluorescence to identify demineralization and thus pinpoint dental caries much earlier than is possible with x-rays or visual examination -- before cavitation begins.
A series of studies conducted by Swedish researchers in the 1980s demonstrated laser-based autofluorescence of enamel and a direct relationship between the mineral content of the enamel and its optical properties, particularly fluorescence (Journal of Dental Research, July 2004, Vol. 83:Spec Iss C, pp. C84-C88). Subsequent studies utilized this phenomenon -- known as quantitative light fluorescence (QLF) -- to characterize the dental caries process with in vitro, in situ, and in vivo models.
"The only instruments available at present that measure mineral loss use QLF," said George Stookey, Ph.D., distinguished professor emeritus at Indiana University and president and CEO of Therametric Technologies, a company founded to commercialize this technology for dental diagnostics. "This technology is based on using a wavelength of light in conjunction with a filtering system to measure the diffraction of light on the tooth surface. When the mineral content of the enamel changes, so do the optical properties."
Attempts to commercialize this technology have so far met with limited success. Inspektor Research Systems of Amsterdam launched the first QLF system, the Inspektor Pro, in Europe in 2004 (price: $24,000). The system subsequently gained FDA clearance and reportedly was being sold in the U.S. by Omnii Oral Pharmaceuticals; however, that company's Web site indicates it sells only pharmaceuticals, not medical devices. (Efforts to contact both Inspektor and Omnii yielded no response from either company.)
Smaller, less expensive
Therametric is now developing a "next-generation" version of QLF that utilizes a high-intensity halogen lamp as the light source rather than a laser, reducing both the size and cost of the system, according to Stookey. In Therametric's Professional Caries Detection System, a probe relays data and images via a universal serial bus interface to a computer with software that pinpoints sites of impending decay up to two years before these spots could be located using traditional visual and x-ray examination methods, Stookey said.
By catching a potential lesion at such an early stage, dentists should be able to help reverse the demineralization process before cavitation begins, he emphasized. The precavitation portion of caries development involves daily periods of enamel demineralization over two to five years. According to Stookey, it is possible to reverse the caries process through measures that induce and facilitate remineralization of the enamel.
"If you detect a lesion before cavitation, it is reversible chemically," he said. "You can apply fluoride or fluoride gels and get rid of the white spot, although it takes some time. But it takes three to four years for a lesion to develop to the point of cavitation, so at any point you can intercept it prior to this, you can reverse it chemically."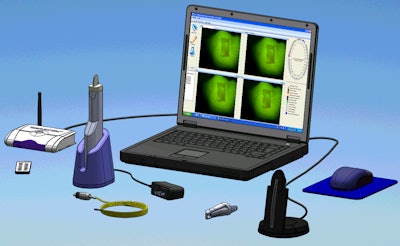 The Professional Caries Detection System by Therametric Technologies.
A study being presented in July at the International Association of Dental Research meeting supports Stookey's claims. Researchers from the Eastman Dental Center in Rochester, NY, used QLF to study the effectiveness of remineralizing agents on early smooth-surface caries. While they found no significant difference between the teeth of those who rinsed twice daily with a combination calcium and fluoride rinse and those who didn't in terms of preventing the progression of caries, they did conclude that QLF could be a useful diagnostic aid in caries management.
Not everyone is convinced that QLF will be that useful, however. According to Allan Farman, B.D.S., Ph.D., M.B.A., D.Sc., a professor of radiology and imaging science at the University of Louisville School of Dentistry, the problem with the QLF technology is that it is largely restricted to evaluating smooth tooth surfaces that are not interproximal.
"As most dental caries occur in regions of stagnation (i.e., pits and fissures on the occlusal surfaces) and interproximally, this technology is not an ideal replacement for traditional radiographic methods for detection of lesions needing restoration as light penetration with the system is around 2 mm at best," Farman stated in an e-mail.
"The technology is acceptable for examining early demineralization in primary teeth without proximal contacts and might be of value for clinical trials into toothpaste, oral rinses, etc.," he added. "The argument that this is a move toward prevention could be made; however, the reimbursements from insurance companies are uncertain for such an approach."
The Therametric product is now undergoing clinical evaluation at several sites and could be on the market by the end of this year, according to Stookey. The price should be "quite competitive with the other instruments that are presently being marketed to assist with caries detection," he noted.
The next generation of dental imaging systems -- notably optical coherence tomography -- promises greater detail than QLF, plus the possibility of 3D. Part III of this series will look at near-infrared imaging and OCT and where they are in commercial development.