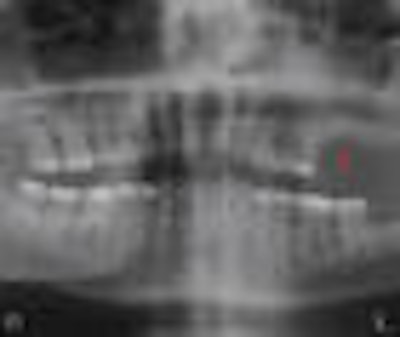 Panoramic radiography may help dentists better evaluate bisphosphonate-associated osteonecrosis of the jaw (BONJ) and confirm clinical diagnoses of the condition, according to a study published in Oral Diseases (January 2009, Vol. 15:1, pp. 88-92).
A recent study in the Journal of the American Dental Association prompted new debate over the role oral bisphosphonates play in the development of ONJ. The JADA study researchers found that approximately 4% of the patients who had a history of alendronate use developed ONJ, which could make a significant difference in the counseling and management of patients on oral bisphosphonates, according to Peter Jacobsen, Ph.D., D.D.S., the vice chairman of the ADA Council on Scientific Affairs. (The ADA offers these guidelines for managing patients undergoing bisphosphonate therapy.)
"Despite being a pathologic condition
of bone, there are no established diagnostic radiographic criteria
for BONJ."
— Nathaniel Treister, D.M.D., D.M.Sc.
BONJ is particularly serious in cancer patients who are treated with intravenous bisphosphonate therapy, according to Nathaniel Treister, D.M.D., D.M.Sc., an associate surgeon at Brigham and Women's Hospital in Boston and lead author of the Oral Diseases study.
"Despite being a pathologic condition of bone, there are no established diagnostic radiographic criteria for BONJ," Dr. Treister and colleagues noted. "Several studies have reported various radiographic findings from panoramic films and computed tomography that include sclerosis, cortical surface irregularities, [and] persistent extraction sockets. However, the frequency and consistency of these findings, and the relationship between clinical and radiographic signs, remain unclear."
A variety of imaging modalities are used to diagnose ONJ, according to Parish Sedghizadeh, D.D.S., the director of the Center for Biofilms at the University of Southern California and lead author of the JADA study. These include plain films, panoramic radiography, cone-beam CT, and conventional CT. Intraoral films can also help demonstrate subtle bone changes.
For the Oral Diseases study, the researchers opted to focus on panoramic x-rays because "this is what most dentists and oral surgeons have in their office," Dr. Treister said in an interview with DrBicuspid.com.
They reviewed the records of 39 cancer patients who had been diagnosed with BONJ and examined using panoramic radiography. After dividing the arches into sextants and evaluating them for signs of sclerosis, surface irregularity, sockets, fragmentation, and lysis, they found that 62 of the 234 sextants were abnormal by clinical criteria, and 61 demonstrated at least one radiographic abnormality. In addition, the total number of radiographic signs per patient increased with the BONJ stage.
"This represents the first study specifically evaluating the panoramic radiograph features of BONJ and their relationship with both the location and extent of clinical findings," the authors concluded. "Our data demonstrated that radiographic findings of sclerosis, surface irregularity, and persistent sockets correlate significantly with clinical sites of BONJ."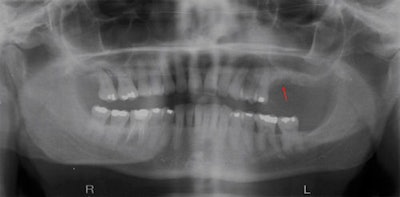 Image courtesy of Nathaniel Treister, D.D.S.
While taking an x-ray is not a requirement of BONJ diagnosis, Dr. Treister noted, "We started thinking, 'Can we look at this in some sort of orchestrated manner to determine if there are consistent findings and whether the ones we see radiographically have any correlation to what we see clinically and diagnostically?' Our findings are interesting because the data appear to be fairly highly associated."
But Allan Farman, B.D.S., M.B.A., Ph.D., D.Sc., a professor of radiology at the University of Louisville in Kentucky, says there is "nothing new" in finding that panoramic radiographs are useful in detecting radio-opacities of the jaws, including various forms of osteonecrosis and osteomyelitis.
"Bisphosphonate-related osteonecrosis and complicating osteomyelitis are not radiologically disparate from other forms of osteonecrosis and osteomyelitis," Dr. Farman stated in an e-mail to DrBicuspid.com. "I would certainly like to see a better description of the methods that were used to diagnose the lesions included in the study."
In addition, he noted, "While panoramic radiography can help in detecting radio-opaque lesions or those with mixed radiolucency/radiopacity, they might not be sufficient for planning surgical interventions."
Dr. Treister defended the study and its methodology, noting that all patients included in the study were chosen based on American Association of Oral and Maxillofacial Surgeons guidelines.
"We don't know yet how significant or useful these findings are, but before jumping into more advanced imaging modalities, why not show first whether they are indicative of something rather than take a CT scan?" he said. "And even though we don't know what the etiology is underlying bisphosphonate osteonecrosis, it is very different from other forms of ONJ."
Dr. Sedghizadeh also believes the study has merit.
"Panoramic radiographs are a good tool that many dentists have at their disposal, and they give a good impression of bone pathology in the jaws, but usually in more involved cases rather than smaller and more subtle lesions of bone," he said. "The [Treister et al] study isn't bad and indicates in some instances that panoramic radiography can be useful for disease characterization, which has been known and is being used by many clinicians already. It is not the gold standard, however, because there aren't enough studies to support such a conclusion yet."