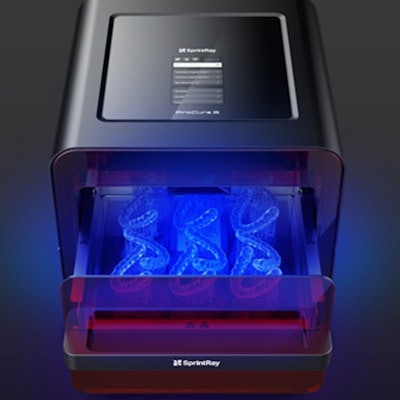 SprintRay launched its ProCure 2 system, which the company touted as faster and more powerful, at its 3D Next Summit in Miami. The company also introduced its radio-opaque 3D printer resin for implant-supported hybrid dentures, SprintRay OnX.
ProCure 2's custom curing engine reduces postcuring times and uses substantially more light power, the company said. ProCure 2 is mated to a cloud-connected touchscreen computer for dental professionals to use.
In addition to the product launches, SprintRay announced a multiyear partnership with eight-time Olympic gold medalist Usain Bolt. Bolt will represent SprintRay as its global brand ambassador.
Furthermore, the SprintRay Foundation in association with the Bolt Foundation will launch Bolt Labs Powered by SprintRay. The initiative will make digital dental care accessible and affordable to patients across the world, starting with Jamaica, SprintRay said.