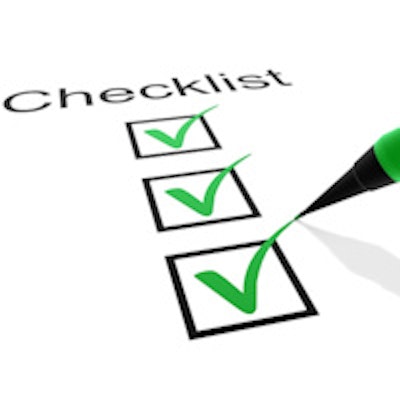 As implants become fully integrated with the dental treatments available to patients, various aspects of the procedure are being refined. Complications are recognized as an inherent risk in implant dentistry, so a panel of experts recently published a safety checklist in the Journal of the American Dental Association to help clinicians minimize the risk.
The authors, made up of a graduate student and professors from the Indiana University School of Dentistry, surveyed an expert panel of 24 periodontists to identify consistencies in their implant placement procedures. The effort yielded 20 consensus statements about the key steps in implant placement that were divided into preoperative, intraoperative, and postoperative phases. From there, they developed a checklist.
"This checklist ultimately will aid in minimizing risk and increasing implant success rates."
"If effective, this checklist ultimately will aid in minimizing risk and increasing implant success rates, especially for inexperienced practitioners, dental students, surgical residents, and dental implant trainees," the researchers explained (JADA, February 2014, Vol. 145:2, pp. 131-139).
While some 300,000 to 428,000 implants are placed in the U.S. each year, the country lags behind many developed nations in implant rates. Millennium Research Group projected growth as high as 12% every year back in 2001, a number that seemed fantastic after growth as high as 15% tumbled to single-digit growth following the global economic downturn.
However, as the recovery inches forward, implant market growth is strengthening as well. "Factors that are helping to drive growth include economic recovery, patient awareness and demand, as well as more doctors providing this treatment," Carmen Chan, an analyst at Millennium Research Group, said during a 2013 interview with DrBicuspid.com. Those doctors entering the market could benefit the most from the new checklist. And after searching, the authors were unable to find any standardized surgical safety checklist like the one they envisioned.
The checklist was created using the Delphi technique, which enables 15 to 30 experts to come to a consensus with multiple rounds of anonymously answered questionnaires. The participants in this effort were selected from the American Board of Periodontology's online database; each had more than five years of experience in implant placement and had placed at least 1,000 implants. The researchers settled on 24 panelists, 22 men and two women who had placed an average of more than 4,200 implants.
In the first questionnaire, the participants were asked to "briefly describe the clinical maneuvers in each of the steps involved in placing an implant." Those responses were compiled and submitted back to the panel for feedback on the wording and sequence of the steps submitted.
The next questionnaire had a sequential list of steps for implant placement based on the previous responses, clinical research, and the authors' own experience. Those items were separated into three sections: treatment planning, intraoperative, and postoperative. After getting responses from the panel, the researchers asked if any steps that had less than 90% agreement were "an important part of good clinical practice for implant placement." However, most steps were agreed upon.
The researchers explained that the following steps were disputed and eliminated:
Formal treatment plan with a restorative partner
Signed treatment plan
Daily stockroom check
Examination and protection of vital structures, airway, or both during surgery
Adherence to manufacturers' recommended drill speeds and torque values
Use of surgical guides
Help of a qualified assistant to verify drill positioning
Prescription of postoperative antibiotics
These steps were reworded and resubmitted to the panel to confirm the objections to them.
The third round involved the distribution of a refined steps list and feedback for it.
Twenty panelists participated in every round, and they created a list of 20 checklist items with at least a 90% consensus for each one.
"To our knowledge, this may be the first attempt to design a standardized safety checklist for dental implant surgeries," the study authors wrote. They noted that the checklist can be in paper form or integrated with an electronic health record, as well as used as a mobile application.
Further research is needed so that the checklist can be clinically field tested and to determine if it can reduce error rates, according to the authors. "A body of evidence supports the use of checklists in reducing errors in a surgical setting. The preliminary safety checklist we have proposed may aid similarly in reducing errors during implant placement," they concluded.