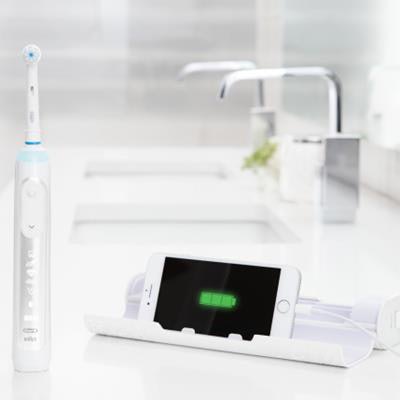 Procter & Gamble brand's Oral-B has launched its Genius X power toothbrush with an artificial intelligence (AI) feature that tracks the user's brushing habits and offers feedback on areas that need improvement.
Genius X comes with other accessories, includng a travel case that charges both the brush and any USB device, such as a smartphone.
The toothbrush also includes the Oral-B app, which includes the Oral-B Funzone and the Disney Magic-Timer app that aims to coach and motivate young children to brush. The app also improved the average adult brushing time to 2 minutes, 22 seconds, which is longer than the dentist-recommended time, according to Oral-B.
The toothbrush features Oral-B's round brush head with three movement modes: oscillate, rotate, and pulsate. It also comes in two models: Genius X, which includes three brush head refills, and Genius X Luxe, which comes with seven refills. Several color options are available.
First unveiled at the Consumer Electronics Show in early 2019, the toothbrush can now be purchased from leading retailers online and in stores.