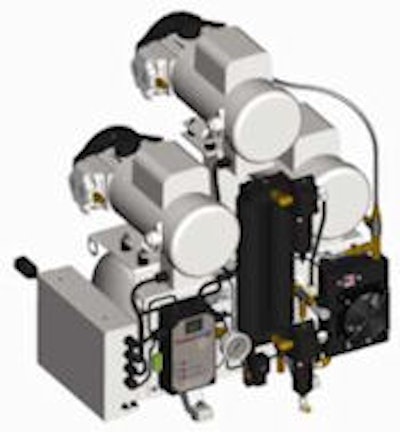 The exhibition floor at the 148th annual ADA convention was bursting with vendors promoting everything from laser tools to latex gloves. Multimedia product demos flashed on mammoth LCD screens, patients gave live testimonials, and wine flowed at the end of the day. As the dental community converged on Moscone Center in windy San Francisco, the DrBicuspid team trolled the aisles, looking for the new, the notable, and sometimes, the offbeat. Some of the highlights: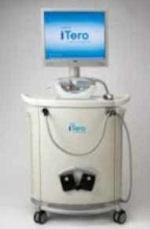 Cadent's "next generation" iTero.
Say goodbye to putty impressions
Cadent's "next generation" iTero -- unveiled at the show -- is the digital solution for creating precise-fitting dental restorations. Dentists use a handheld intraoral scanner that takes a 3D image of the patient's mouth. You can view the magnified image on a chairside monitor, and make real-time adjustments to it. Once you're satisfied, the image is transferred electronically to a Cadent partner lab. The image is reviewed by the lab and sent to Cadent's manufacturing facility for milling. Cadent sends the completed physical model back to the lab, which creates the final restoration, and delivers it to the dentist. This latest iTero features a shade library and improved background colors and gradients for more realistic and accurate 3D images. It is also 50% faster than its predecessor, when it comes to scanning and displaying an image. Price: $18,000. Availability: Available in 30 states; nationwide in 2008.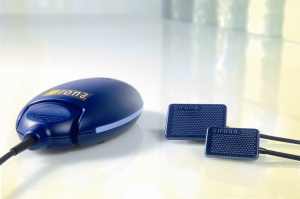 Sirona's XIOS Intra-oral Sensor System.
Fast, sharp, easily fit digital x-rays
Need sharp digital imaging -- with sensors that actually fit in a human mouth? Sirona Dental Systems' XIOS Intra-oral Sensor System promises "excellent" image quality, combined with real-time display, thanks to the system's speedy USB 2.0 connections. Communicating with patients and medical professionals is easy -- the XIOS is compatible with SIDEXISA XG imaging software; the DICOM standard is supported. Perhaps just as important, XIOIS' slim, trim, and rounded oral sensors come in two sizes: 25.6 x 36 mm and 20 x 30 mm. Buy the SIDEXIS XG image processing software and you can use it for all the computers in your office. Price: $10,650; $12,500 with SIDEXIS XG software. Availability: Nationwide.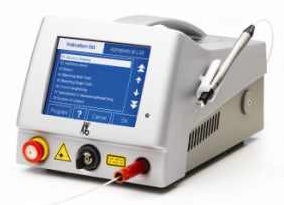 KaVo's GENTLEray 980.
The gentle way to slice gums
The GENTLEray 980 is a new diode laser from KaVo Dental aimed at soft-tissue surgery, from endodontics to treating bacterial infections. The Classic system features a 6 watt, 980 nm laser, 300 µm fibers, foot switch, protective goggles, and a monochrome touchscreen. The Premium version includes new software and greater performance (7 watts cw, 12 watts peak). With both units, the fiber can be replaced with a tooth-whitening handpiece. Better yet, both units feature a touchscreen tutorial. Just pick the procedure and the system pulls up the appropriate instructions and automatically selects the proper settings. Price: TBA after FDA approval. Availability: Available in Europe; awaiting FDA approval in the U.S.
Give your office a makeover
Intimidated by the thought of setting up a new office? Need to give your workplace a facelift? Need to squeeze another operatory into your floor plan? Design Ergonomics can help. The company specializes in designing dental offices that are aesthetically pleasing, ergonomically sound, and make optimal use of your space. Pick the custom design service and you get a design team dedicated to creating a totally personalized office. On a tighter budget? Opt for a range of prefab designs. And if you are simply looking for information about the best material and products to use in a dental office, turn to their design consultation service. Availability: Nationwide.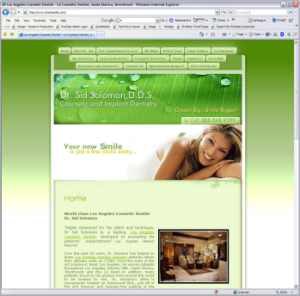 Prosites' Web site design.
The easy, breezy way to build a Web site
If your jam-packed schedule leaves you no time to get your practice online, let someone else do it. Prosites is a medical and dental Web site design service that offers 43 prefab multipage Web site designs. Each design contains dozens of pages with graphics and professionally written content. You can add pages such as a smile gallery, online appointment request form, information on procedures, FAQs, and more. Prosites lets you edit the content, add pictures and Flash animations, and otherwise customize the site. Simply log onto your password-protected account and create or edit your site with the click of a button. Site need a fresh coat of paint? Choose from Prosite's style options and change to a fresh new look at no extra cost. Price: $2,500 set-up cost. Availability: Nationwide.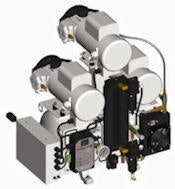 DentalEZ's CustomAir by RAMVAC.
Moisture-free, germ-free office
When it comes to keeping bacteria at bay, clean, dry air is a must. DentalEZ Group's new compressor -- the CustomAir by RAMVAC -- could be the solution. According to the company, the CustomAir is quiet, small, and built to run continuously. Thanks to its dual column design, the CustomAir provides a continuous flow of moisture-free air. While one column is purging the air, the other is delivering dry air into the office. Price: $4,350 and up. Available: Nationwide.
Hands-free perio charting
Invented by Dental Hygienist Becky Logue, the Dental R.A.T. is a foot-operated mouse that lets you enter probe readings without the need for an assistant -- or even your hands. Four buttons let you easily enter probe reading numbers; a left-click button lets you control cameras, flip through pages, zoom images, and otherwise run programs. The R.A.T. is compatible with Dentrix, EagleSoft, PracticeWorks, Softdent, PerioExec, and other applications. Plug it into a USB port and you're ready to start charting. List Price: $1395.00. Available: Nationwide.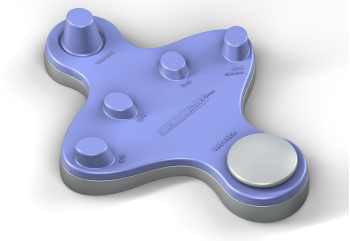 Dental R.A.T.