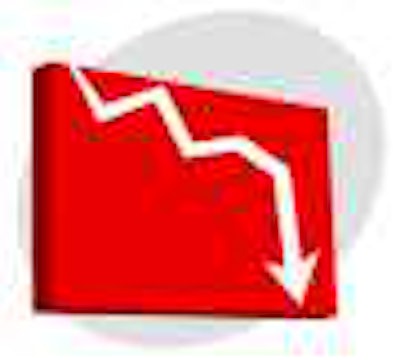 The demand for dentistry -- particularly expensive procedures -- may slow down over the next few months, according to a survey that financial advisory company Robert W. Baird released last week. The news caused some dental supply companies' stock to fall.
"Our fear is that if job loss accelerates, dental benefits in the U.S. could get less over the next few months," Robert W. Baird analyst Jeff Johnson told DrBicuspid.com. "Job loss is tied into insurance (so) there would be loss in volume of patients and a trade down to lower-end procedures."
Dentsply, whose stock dipped after Johnson's report, argued that he had exaggerated the importance of the recession. "While this will have some impact on the dental industry it is not a large impact," said Bill Jellison, chief financial officer.
Robert W. Baird surveyed 245 dentists (85 percent general dentist and 15 percent specialists) between March 27 and April 9 this year. In addition, it took into account comments from respondents and feedback from a number of public and private dental industry sources, Johnson said.
"While it is fair to say that neutral comments we collected in this survey outweighed some of the more colorful negative comments," the report reads in part, "... if even a small proportion of dental practitioners are seeing a fall-off in patient traffic to the extent noted by some of our survey respondents, industry-wide growth could slow by a couple percentage points."
Here are some of key findings from the survey:
So far in 2008, 29 percent respondents felt that the patient flow was the same as the previous year, 27 percent found it modestly slower and 11 percent found it significantly slower. On the other hand, 24 percent felt it was modestly busier while 8 percent found it significantly busier than last year.
Looking ahead, 33 percent felt patient flow would be the same as the previous year, 28 percent thought it would be modestly slower and 10 percent felt it would be significantly slower. Twenty-two percent felt they would be modestly busier while 8 percent predict they'll have more patient visits than last year.
When asked about patients' willingness to spend money on expensive procedures 43 percent said a small number of patients were less willing to spend in recent months,16 percent said a large number were less willing, 34 percent saw no change, and 7 percent reported that their patients were more willing to spend in recent months.
Based on these trends there will be a slow down in market trends over the next quarter, Johnson projects. And that is why he has dropped the target price on the stock of a number of dental supply companies:
Dentsply stock price down to $42 from $48.
Henry Schein to $64 from $70.
Patterson to $41 from $38.
Sirona Dental Systems to $32 from $35.
Young Innovations to $21 from $27.
With the exception of Henry Schein which is at "over perform," Johnson has downgraded the stock of all other dental supply companies that he monitors to "neutral."
But Jellison is optimistic and explains that when employers cut medical costs, they sometimes replace them with less expensive dental and vision plans.
Other dental supply companies listed in Johnson's report did not respond to requests for comments.