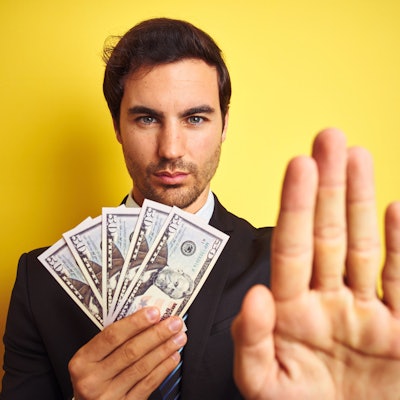 Following months of mounting pressure from some of its members, the ADA's political action committee (ADPAC) is suspending political contributions to former dentist Rep. Dr. Paul Gosar (R-AZ), according to a story first reported by Vice News.
ADPAC, as well as individual ADA members, has been one of the controversial congressman's biggest donors. The organization PAC and individual members donated $76,463 to Gosar's campaign between 2009 and 2020, according to the nonpartisan nonprofit Center for Responsive Politics (CRP). ADPAC's last donation of $250 was made to Gosar on January 22.
"The ADA's Board of Trustees determined that the American Dental Political Action Committee should suspend future contributions to Rep. Gosar," according to a statement issued July 22 by the ADA.
The ADA did not respond to inquiries as of press time.
News broke about ADPAC dumping Gosar after the ADA released a statement on July 17 stating that it believes in political participation that reflects its core values of integrity, diversity, and inclusion. The statement did not specifically mention Gosar.
"The ADA will support those individuals who advance our mission and are in alignment with those ideals, views and priorities," according to the July 17 statement.
The ADA is one of several dentistry-related organizations to donate to Gosar. During the same 11-year period, the American Association of Oral and Maxillofacial Surgeons' (AAOMS) PAC donated $60,000, the American Academy of Pediatric Dentistry's (AAPD) PAC contributed $53,000, and the American Association of Orthodontists' (AAO) PAC donated $50,000, according to CRP.
Dr. John Rutkauskas, CEO of the AAPD, said the organization was aware of the ADA's decision.
As to whether the AAPD PAC, which presented Gosar with its 2015 Legislator of the Year award, will suspend its support of Gosar, Rutkauskas said in an email, "Our board is evaluating the matter."
The AAOPAC also has not made a decision yet.
"The AAOPAC has not given to Rep. Gosar this [election] cycle," Dr. Ken Dillehay, AAO president, said in a statement. "The PAC continues to examine its giving guidelines to ensure funding is aligned with the AAO's mission, values, and legislative agenda."
Gosar's office and the AAOMS did not respond to requests for comments.
Extreme views
Gosar in recent years has drawn criticism for comments he's made on political topics. Most recently, Gosar falsely suggested that the 2020 election was "stolen" from President Trump and suggested that the U.S. Capitol Police officer who killed a woman who tried to climb through a barricaded door during the insurrection at the U.S. Capitol on January 6 committed "murder."
Mere days after the riot, ADA members began speaking out against Gosar. In a letter published January 16 in ADA News, Dr. David Lurye, an ADA member and longtime colleague of Gosar, called the congressman an "embarrassment" and said he hoped that ADPAC would stop supporting him.
ADA member Dr. David Dowsett, of Portland, OR, expressed similar concerns in a letter published April 1 in ADA News.
"Integrity is at the heart of what and who we strive to be," Dowsett wrote. "With it, anything is possible. Without it, nothing is. ADPAC and the ADA need to take a stand for what is right and withdraw all support for Rep. Gosar. I will no longer contribute to ADPAC until we restore our highest standards for all who represent us."
In response to Dowsett, Dr. Daniel Klemmedson, president of the ADA, encouraged all members to share their opinions and noted that the PAC was "reviewing criteria to determine the ADA's future priorities and guidelines for contributions to lawmakers."
Some ADA members, like Dr. Jay Wells III, of Bethel Park, PA, praised Gosar's dentistry-related legislative victories, according to a May 10 letter published in ADA News. Gosar was one of several lawmakers who fought to pass the Competitive Health Insurance Reform Act.
"All ADA members have to realize that both liberals and conservatives support our Association's goals in the Congress and that we have to put aside our personal likes and dislikes of individual political leaders and focus on what is best for dentistry," Wells wrote.