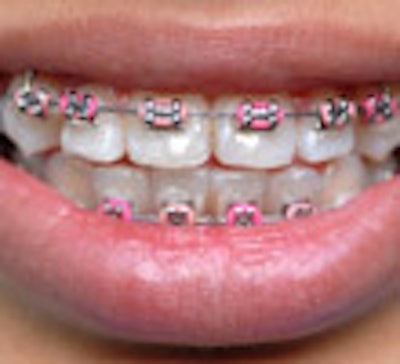 Attention orthodontists! It's Valentine's Day and as people everywhere prepare to pucker up, your braces-wearing patients might have a few concerns. That's why the American Association of Orthodontists (AAO) has taken this opportunity to dispel some common myths -- from the ordinary to the bizarre -- about braces.
With today's smaller sleeker braces, two people wearing braces can kiss without locking braces.
Braces are made with lightweight material and will not set off the metal detectors at airports.
Modern braces are made of titanium alloy and other materials that don't rust.
Once braces are removed it is important to wear the retainers prescribed by an orthodontist, as teeth move throughout one's life.
Braces do not interfere with radio signals or electronic devices.
No patient is too old for braces. Currently one in five orthodontic patients is an adult.
It is possible to play any sport with braces as long as patients use a mouthguard.
Braces will not increase your chances of being struck by lightning.
Deep sea divers rest assured. The small brackets used in today's braces, will not attract unnecessary attention from sea life.