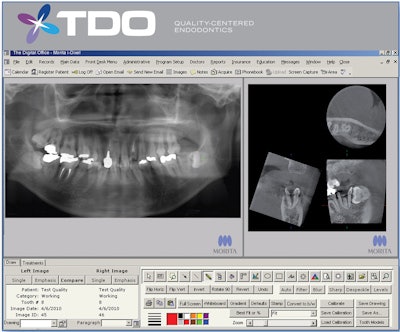 J. Morita USA is now offering a software integration solution for users of TDO's endodontic practice management software. TDO users can now incorporate any Morita 3D unit into their practice with full compatibility, according to the company.
"With cone-beam functionality now built into TDO software, it is easy to access, share, and store 3D images in an efficient manner," Morita said in a press release.
The company's i-Dixel software has been programmed for a direct connection to the TDO environment. All image types, including 2D x-rays and 3D images, can be organized in one system. Selected slice images can be transferred to TDO with a single click of the export icon. The clinician can then select the slices of interest, annotate images, and quickly generate reports that can be sent straight from the TDO software.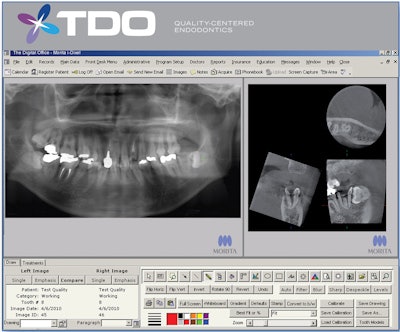 Image courtesy of J. Morita.
TDO users can choose from a wide range of Morita 3D imaging systems, including Veraviewepocs 3D, Veraviewepocs 3De, and 3D Accuitomo. All units come standard with i-Dixel software and offer automatic TDO integration.
Copyright © 2010 DrBicuspid.com