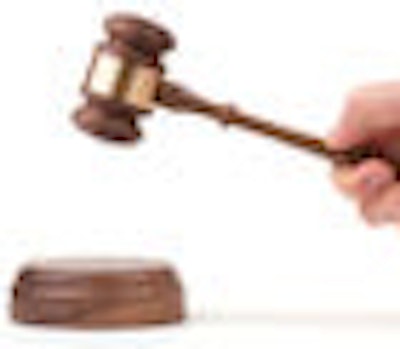 A former University of Medicine and Dentistry of New Jersey (UMDNJ) student who was dismissed after his patient suffered two cuts on the lip during a dental procedure has won a $2 million lawsuit against the school.
In July 2008, Jason Vladimer was nearing graduation at UMDNJ's dental school when he accidently cut a patient's lip with a bur during a routine restorative procedure. The patient also incurred a second cut from a dental dam clamp.
The cuts were "minor" , according to Vladimer's attorney, Charles Schalk. The patient was unharmed, Schalk said.
The incident led to Vladimer's dismissal in January 2009. Valdimer, who had been an honors student, subsequently sued the school, alleging that his dismissal was "arbitrary" and violated "due process."
During a three-week trial in Essex County Superior Court earlier this month, Schalk argued that his client was denied procedural and substantive due process; on March 21, the jury decided in Vladimer's favor. He was awarded $2 million for future economic losses and $25,000 for emotional distress.
The dismissal cost Vladimer his career, which is why the jury award was so high, according to Schalk. Vladimer had been accepted into the University of Iowa's periodontal program, but now no school in the U.S. will accept him with the expulsion on his record, he added.
Vladimer has since moved to Israel and is now pursuing a joint degree in biology and computers.
The patient whose lip was cut during the procedure also testified at the trial. David Smyly came all the way from Florida and was "very supportive," according to Schalk.
"He said that Jason was the best dentist he had in his entire life, and he could not believe Jason was expelled," Schalk said.
UMDNJ refused to comment on the verdict, although Jeffrey Tolvin, a school spokesperson, sent DrBicuspid.com a statement saying that the school was "very disappointed" in the jury's decision.
"We believe our actions in this case were all appropriate," the statement read. "The university will be reviewing the decision to determine the potential for an appeal."