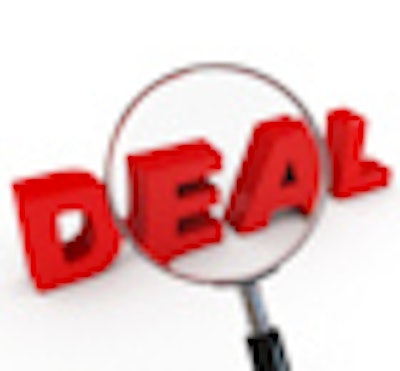 With daily deal websites such as Groupon and Living Social flourishing, the format was sure to come to products in the dental industry. And while Groupon has strayed into the realm of selling dental services with mixed results, BiteDownDeals is exclusively offering daily deals on dental supplies.
"We're the first and only daily deal website that's dedicated to dentists and dental professionals," Alon Schwartz, president of BiteDownDeals, told DrBicuspid.com.
Launched on April 19, the California-based e-commerce company has sold 23 different products to date, initially selling one per week until settling into the daily offering pattern on June 1.
"What we're looking to do is address those products that most offices use and reuse month in and month out," Schwartz said. "We sell a lot of disposables, although we've done a little bit of equipment."
"We need to offer a much cheaper rate for them to buy from us."
— Alon Schwartz, president,
BiteDownDeals
The process is simple. Each day, starting at 12:01 a.m., a new product becomes available at BiteDownDeals' website. Much like Groupon.com, the market price, sale price, percentage of the discount, and a countdown clock displaying how much time is left before the deal expires are displayed. Features known to Groupon users are also present on BiteDownDeals' site. A membership or user name is not required to make a purchase, although creating one streamlines the purchasing process during subsequent purchases.
Each day, an email blast goes out to all members announcing what product is available that day. "For example, today they got an email saying today's bite down deal is film," Schwartz said. "Everything is opted-in so we're not spamming or emailing anyone who hasn't asked to get the emails." Previous products have included a Clearfil SE bond kit (Kuraray), Ketac-Silver Aplicap (3M ESPE), and an ART-P4 piezo electric scaler (Bonart Medical Technology).
Small size, big discounts
While similar websites have yet to pop up serving dentistry, Schwartz's company still has to compete with large suppliers -- some of whom do offer online daily deals as one component of their sales strategy.
"The big dental supply companies that are giants out there that the majority of offices use, they supply everything from A to Z," Schwartz said. "Offices order from them each month or week, depending on the office. So in order for them to come to us, we need to offer a much cheaper rate for them to buy from us. We have to give them a reason."
BiteDownDeals' ability to sell products discounted by as much as 40% less than the typical list price lies in the company's small size.
"We don't have any overhead compared to the big suppliers," Schwartz explained. "The margins for me are different than what these big supply companies need to have. For us, its one deal per day, so there's not a lot of diverse inventory, it continuously revolves."
Schwartz, who got his master's of business administration degree at the University of Southern California, followed the daily deal model with interest as he worked at different Internet start-up companies after graduating.
"I have some family that's been in the dental supply business for a while, and I thought, 'Hmm, let's take the dental supply relationships that they have and use them to create a fresh, new, daily deal site for dentists,' " he explained. "It takes the knowledge of the dental supply business and merges those relationships and contacts into my business sense."
He anticipated a positive response from dentists but has enjoyed unexpected attention from suppliers, he added.
"I was kind of surprised at the number [of suppliers] that has contacted me with interest in the site," Schwartz said. "I thought it might happen eventually, but I'm surprised at how quickly it has taken place. I'm in the works with a couple I'd like to refrain from mentioning until they're sealed, but it's very exciting."