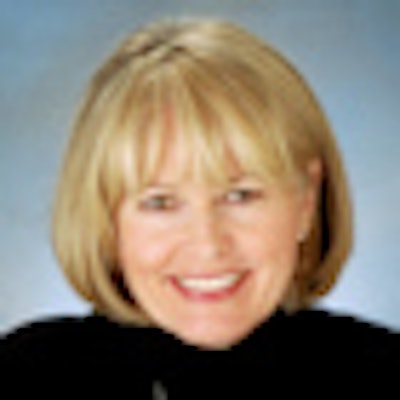 At first they seem like two very different worlds. One is a dental center for poor children and blue-collar families off a gritty thoroughfare in Inglewood, CA. The other is a high-end aesthetic dentistry practice, resplendent with potted orchids and a view of the Pacific, an hour up the freeway in Newport Beach's posh Fashion Island enclave.
Then you meet Cherilyn Sheets, DDS, educator, clinician, author, and lecturer, and you start to see the connections. Both are her places, and both are guided by her philosophy of oral health education.
"It's not just giving someone a toothbrush. It's what it feels like when your mouth is clean," Dr. Sheets told DrBicuspid.com. "Whether they are a patient in Newport Beach or a child in Inglewood, it's the same information."
In her practice on Fashion Island, Dr. Sheets teaches some very affluent patients how to maintain their perfectly restored smiles. Meanwhile, as the founder and board chairman emeritus of the Children's Dental Center of Greater Los Angeles, she works to ensure that children from struggling families have the tools they need to defeat dental disease before it ruins their chances at better lives.
"It can't be overemphasized in getting children out of poverty: If that smile is destroyed, it destroys their ability to get the job they want or the partner they want," Dr. Sheets said. "It changes their personality."
Following dad's footsteps
In Inglewood, the rose-covered "Tooth Fairy" cottage where kids come to learn about oral health is actually the home where Dr. Sheets grew up. And the bright and cheerful 11-operatory clinic across the street was once the successful dental practice of her father, James Sheets, DDS.
In 1988, when his health began to decline, he turned it over to his daughter. By then she was already on her way to establishing the professional niche she now occupies: maintaining a full-time private practice that emphasizes rehabilitation and implants; co-directing the Newport Coast Oral Facial Institute, a nonprofit microsurgical teaching and research center; and serving as a clinical professor of restorative dentistry at the University of Southern California School of Dentistry.
Yet she refused to turn her back on the deep and persistent needs in Inglewood.
Dental disease in California remains epidemic, with somewhere between 750,000 and 1 million school children suffering from untreated decay, according to recent assessments. Poor children and children of racial and ethnic minorities are much more likely to have tooth decay, research has found.
And of the 2.7 million children in Los Angeles County, where Inglewood is located, more than a quarter lack dental insurance. Even many with public insurance face problems obtaining dental care.
That is the population Dr. Sheets began targeting when she founded the children's dental center in 1995. Today thousands of children each year receive oral health lessons and care through the center's programs.
Her approach to helping the children of the poor and working poor has been informed by her work rebuilding the ruined mouths of patients who could afford to pay for another chance at oral health.
"I was looking at people who had demonstrated their ability to destroy their mouths," she said.
They might have been enjoying success and power, but before they could get their teeth restored they had to learn how to take care of their mouths. Dr. Sheets showed them the way.
"New habit patterns are established. They have minimized the recurrence of disease and protected their investment," she explained. "When we founded the Children's Dental Center, the philosophy was we'd teach prevention so that when we treated the disease they'd stay healthy."
It takes a village
One recent morning, children from a local day camp visited the Tooth Fairy cottage where they made "monster mouths" with craft supplies, played dentist with a giant teddy bear, and romped around the remodeled Sheets family home, learning about good eating habits in the kitchen and getting coaching on better brushing in the big bathroom lined with sparkling sinks, mirrors, and teaching aids.
"The place where I grew up and that my parents worked so hard to create is helping children and families in the area," Dr. Sheets proudly said.
Across the street in the clinic waiting room, beneath a mysterious and fanciful mural, the last patients of the morning awaited care.
"We moved to California and needed a new dentist," said Cenia Gastelum of Compton, CA, the wife of a trombone player and the mother of 9-year-old Arizbeth, who had an appointment for a stainless steel crown. "She likes coming here."
These days the clinic provides about 8,000 patient visits a year. Nearly all the patients are uninsured children and those covered by Denti-Cal, which provides dental services under California's Medicaid program. In the current year, more than 30,000 children have received oral health education through the center, and another 10,000 have been screened through the program's outreach work in schools.
The center has an annual budget of about $1.5 million a year, raising roughly half the money from grants and donations, and seeking to make back the rest through Denti-Cal reimbursements and patient fees. Uninsured families pay $45 for a basic visit for a child. Parents also are accepted.
The lingering effects of the recession have made it hard to keep up with the bills some months.
"It has been a struggle," acknowledged Dennis Young, president and CEO of the center.
Yet the work goes on. The clinic has two dentists and also auxiliaries on staff, and more professionals from the community donate their services. Care is also provided by hygiene and dental students from local colleges and dental schools, who work under faculty supervision. At the center, the young healers learn about the extent of the need in poor places, said Steven Uranga McKane, DMD, MPH, a former U.S. Public Health Service dental surgeon who now serves as the center's chief program officer.
"A lot of the kids have never seen an underserved population," McKane said. "They show up in a Porsche or BMW. They grew up in Beverly Hills. We are trying to open their eyes to philanthropy."
National Children's Oral Health Foundation
And Dr. Sheets, not content with simply expanding the horizons of care in greater Los Angeles, went on in 2006 to found the National Children's Oral Health Foundation (NCOHF). The nonprofit focuses upon promoting and providing comprehensive oral healthcare to underserved children throughout the U.S.
Over the past five years, the NCOHF has distributed more than $9 million in funding, donated dental products, and technical resources to its affiliate network of nonprofit dental centers, university dental schools, community clinics, and volunteer dental professionals.
The latest effort by NCOHF encourages dentists to sponsor oral health literacy programming in schools in their own communities.
"I'm seeing more and more people really dedicated to helping," Dr. Sheets said.
Meanwhile, her Newport Beach practice has continued to grow. It now includes eight operatories, an onsite dental lab where technicians craft restorations, and a workroom where an associate, James Earthman, PhD, conducts ongoing research into energy dissipation in natural teeth and dental implants. Together, he and Dr. Sheets own three patents on a medical device that measures the osseointegration of dental implants and detects cracks in teeth and restorations.
Most of the chairs at this office are equipped with microscopes, which Dr. Sheets considers her most valuable dental instrument. At her Newport Coast Oral Facial Institute, she offers courses on the use of the dental microscope and swears by its value.
"It automatically raises the bar of excellence," she said. "You can see better, and it takes so much pressure off your back. Your posture is so much better."
Two endodontic chairs at the children's dental center also are equipped with microscopes. But Dr. Sheets' goal is to keep the children out of those chairs. She would much rather help them grow up free of caries and infection in the first place.
"This is 100% preventable," she said. "You don't need it or all the problems."