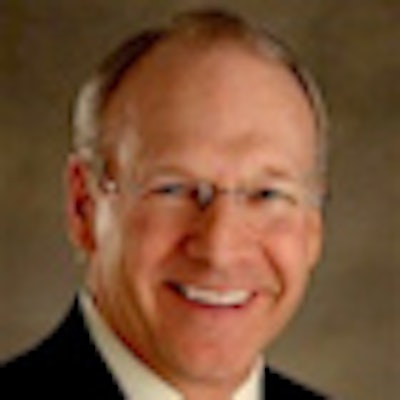 Michael Fitterling, DDS, a general practitioner in Joplin, MO, managed to reopen his practice in temporary trailers just a month after it was destroyed in the devastating tornado last May that destroyed whole parts of the city.
Family, friends, and patients turned out to help Dr. Fitterling and his wife, Margie, dig through the rubble to salvage what they could from the ruins of his office, one of 500 businesses destroyed in only 20 minutes when the twister ripped through Joplin, leaving a 13-mile path of destruction in its wake.
And on June 20, he treated his first patient after reopening: a woman whose husband had been killed while shopping in a Walmart that collapsed during the tornado.
While the couple worked to get their office up and running again, they wanted to do more to help the community. So the Fitterlings decided to lend a hand to Joplin High School, after they learned that school's music library, the second oldest and one of the largest in the state and worth more than $800,000, had been destroyed in the tornado.
"Our son and daughter graduated from there, and they were both active in the music program, so it's near and dear to our hearts," Margie told DrBicuspid.com.
Since the Fitterlings are both fans of singer-songwriter Barry Manilow, they contacted the Manilow Music Project to see if it could help out. Manilow established the program in 2008 to bolster arts programs nationwide that have suffered due to budget cutbacks.
The singer responded by visiting the school himself on October 27 to donate more than $300,000 worth of musical instruments. Students, teachers, and townspeople gathered to watch three truckloads of instruments -- including a concert grand piano -- arrive, according to a CNN report.
"We thought they would just send a check."
— Margie Fitterling
"I e-mailed a request [to the Manilow Music Project] to help the music department, and we thought they would just send a check. To have all this happen, it's just unbelievable," Margie said. "Barry's sincerity, generosity, and compassion are just amazing. It's really overwhelming."
In addition to the $300,000 in instruments, the Manilow Music Project teamed up with Fitterling Dentistry to accept donations of gently used instruments and money to help rebuild the sheet music library, CNN reported. And Dr. Fitterling is sponsoring a fundraiser to replace sheet music for the school's band and choir.
"I know firsthand how invaluable music can be to get you through life's tough times," Manilow said in a statement. "It is an honor and a privilege to help these kids after such a disaster."
The donations will benefit not only the high school band but also the pep club, choir, orchestra, and middle school, Rick Castor, music director for Joplin High School, told CNN.
More than 20 Joplin dental offices were destroyed by the tornado, and Dr. Fitterling has been swamped with patients since he reopened.
"It's been a challenge for patients to get in to see a dentist because a majority of the dental offices were lost," Margie said.
Dr. Fitterling's office was a block away from St. John's Hospital, a nine-story building that was completely decimated by the tornado. "It looks like bomb exploded," Margie said. Fortunately, the couple's home was not damaged by the storm.
Fitterling Dentistry and its contents were insured, but insurance doesn't cover everything, Margie noted.
"There's just no way to cover all our losses," she said. "We've been upgrading with new technology and equipment over the last 30 years, so to go out and have to buy everything at once is kind of overwhelming. But we have a great dental team."