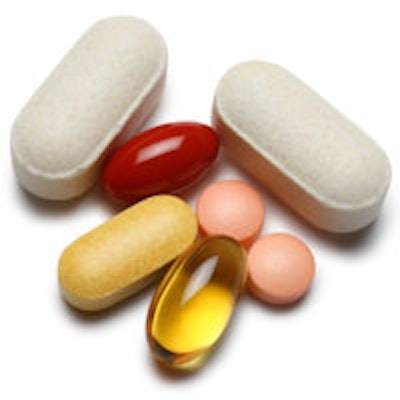 Taking dietary supplements has become commonplace in this day and age. The National Institutes of Health (NIH) reported in 2007 that one-third of all Americans take them -- to the tune of nearly $27 billion a year. But how important is it for dentists to be aware of what dietary supplements their patients are taking?
A recent Journal of the American Dental Association report emphasizes that there are several common supplements that dentists should be informed of due to the potential for adverse interactions (July 2013, Vol. 144:7, pp. 788-795).
"Provided that patients are not taking ginkgo, St. John's wort, evening primrose, or valerian," the authors explained, "oral healthcare providers can prescribe or administer any of the medications used commonly in dentistry without concern about possible dietary supplement-drug interactions."
The study authors have professional backgrounds that are well-suited to the topic. Mark Donaldson, RPh, PharmD, is a clinical professor at the University of Montana's Skaggs School of Pharmacy in Missoula, as well as a clinical assistant professor at Oregon Health and Science University's School of Dentistry in Portland. Co-author Riva Touger-Decker, PhD, RD, is a professor and director of the New Jersey Dental School's Division of Nutrition and chair of the University of Medicine and Dentistry of New Jersey's Department of Nutritional Sciences.
They note that "recognition and avoidance" of dietary supplement-drug interactions is necessary to ensure that dentists keep their patients safe. Seniors in particular are at greater risk; one study reported that people older than 65 are seven times more likely to have an adverse reaction to drug interactions than younger people. The results of another NIH survey that found that 67% of those 50 and older had not discussed complementary and alternative medicine (CAM) with their healthcare provider. In that survey, 42% were not asked about CAMs, while 30% did not know they should broach the subject. Clearly, there are unnecessary risks being taken, along with a need for diligence in having patients disclose what supplements they use, the study authors noted.
Deadly combinations
For their report, they honed in on adverse interactions that had been substantiated with randomized, controlled clinical trials or meta-analyses. Acetaminophen, for example, received a strong recommendation among analgesics for patients taking dietary supplements "because it is not associated with any clinically significant dietary supplement-drug interactions."
The combination of aspirin and ginkgo or evening primrose, however, was assigned a "D" rating according to the Lexi-Comp clinical database, indicating that a practitioner should "consider therapy modification." Those two supplements combined with ibuprofen also received a "D" rating.
In the realm of antibiotics, amoxicillin, cephalexin, metronidazole, and penicillin are considered the best choices for patients taking dietary supplements, the authors noted. However, calcium supplements may prevent doxycycline and tetracycline from being absorbed, limiting their effectiveness and earning the combination a "D" rating.
The researchers also cautioned about the use of several sedatives on patients who are taking certain dietary supplements. "Significant interactions exist between St. John's wort or valerian and the most commonly used benzodiazepines (alprazolam, diazepam, lorazepam, midazolam, and triazolam), as well as zaleplon and zolpidem," they wrote. The safest alternative for patients requiring a sedative who are taking those supplements is nitrous oxide-oxygen, they noted.
At the end of the day, there were four dietary supplements that had the greatest potential for adverse drug interactions: St. John's wort, ginkgo, evening primrose, and valerian.
"For a patient who is taking one of these four dietary supplements, the prudent practitioner may ask him or her to stop taking the supplement for at least four half-lives before a dental appointment involving administration of a drug," the authors stated.