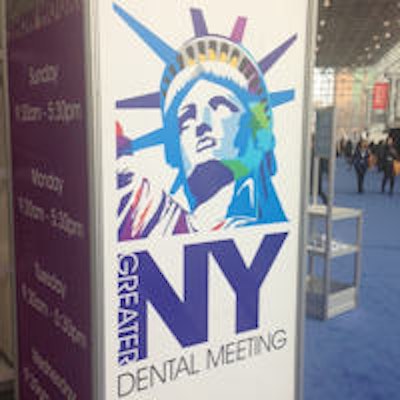 The Greater New York Dental Meeting (GNYDM) is the largest dental meeting, exhibition, and congress in the U.S., and it hosts an abundance of opportunities for dentists to take in the latest in dental technology and training. This year's meeting began on Saturday, November 30, with the first day of seminars, workshops, and a bit of revelry at the annual dinner dance, and ran until Wednesday, December 4.
If you weren't able to attend, here are a few things that you missed.
A digital push
Digital imaging technology was omnipresent at the GNYDM. Lecture series on cone-beam CT (CBCT) and CAD/CAM had a range of instructional levels for experienced and new users with multiple sessions held daily.
New York private practitioner Ronald Margolies, DMD, during the opening to his seminar, "Cone Beam CT -- The Future Is Here," explained that "this is an agnostic presentation." His disclaimer was understandable, since it took place in an area surrounded by various CBCT companies displaying their latest products.
The separation was not lost on vendors. "There is a lot of new cone-beam tech on the floor this year," Joe Harms, vice president of sales at Carestream, said during an interview with DrBicuspid.com. "And much of the discussion about it is coming from the podium, not the advertiser."
Indeed, Dr. Margolies outlined his support for digital imaging in dentistry.
"It's a wonderful technology," he said. "You can't treat what you can't diagnose. And you can't diagnose what you can't see." While covering the basics of CT and 3D imaging software, he cited its availability via mobile scanning units that can reach most practices without their own equipment.
Meanwhile, other presentations that only touched on the subject recommended adoption by dentists. Gordon Christensen, DDS, MSD, PhD, also espoused the usefulness of mobile imaging services during his Monday morning session, "The Best Techniques and Materials for Replacing One Tooth to All of the Teeth."
Both Dr. Margolies and Dr. Christensen noted that neglecting to use digital imaging technology could expose a practitioner to lawsuits. "3D does make a difference and it is the standard of care," Dr. Margolies said. "A doctor has much greater chance of being sued for not taking a CBCT scan."
Plentiful opportunities to learn about digital imaging may have contributed to the types of questions fielded by company representatives on the exhibition hall floor. "There was quite a lot of interest in intraoral scanning," Adam Prewitt, a regional sales manager at Zahn Dental, told DrBicuspid.com. "That's the buzz I'm hearing."
An international affair
"We will continue to present a full day of programming in Spanish, Italian, French, Portuguese, and Russian to accommodate our international guests," Richard Rausch, DDS, the GNYDM general chairman wrote in his "General Chairman's Welcome," noting that registrants from 130 different countries participated in last year's meeting.
"There have been a lot of international participants," Prewitt said during the last day of the meeting. "There were folks from St. Lucia, Kazakhstan, Germany, and many, many other countries."
Rita Zakher, DMD, a clinical affairs specialist for J. Morita, concurred. "There have been a lot of international doctors in town, especially on Monday," she said. "So far, I have spoken with practitioners from Italy, Ukraine, Egypt, Haiti, Israel, and Uzbekistan."
The GNYDM made visible efforts to welcome them. International visitors had easy access to the International Hospitality Center and the International Business Center, both situated close to the main entrance in the registration area. The array of flags from different countries made them hard to miss.
In addition to sessions hosted in a variety of languages, the meeting had sessions for domestic companies seeking to expand their business abroad. The U.S. Department of Commerce Export Seminar covered a range of related topics, including "Exporting 101," where promising markets exist for U.S. dental products and equipment, and a trade finance briefing for U.S. supplies and international buyers.
Signs of a growing economy
Indicators of a growing economy were present in several respects, from attendance figures to the facelift that the Jacob K. Javits Convention Center is currently undergoing. On their way into Javits, attendees passed by the massive footprints of new skyscraper developments taking shape across from the convention center.
Registration numbers were up slightly from last year. On the third day of the meeting, displays on the way into the exhibit hall listed 53,994 registrants, which represented growth from 2012's total of 53,481.
Vendors reported a strong first day with traffic that tapered off over the next several days until the end of the meeting, when deal seekers keep representatives busy. "We had a good last day," Prewitt said. "This is our first year as a collaborative piece [between Zahn and Henry Schein] so that was an unknown going into the meeting. A lot of doctors are asking about Zirlux, which is interesting. We usually get those questions from dental labs."
"We've also had a ton of questions on full-contour zirconia, which has been eye-opening," he added.
And Rick Gross, a senior product manager at DentalEZ, reported a "superbusy Sunday," during a conversation with DrBicuspid.com.