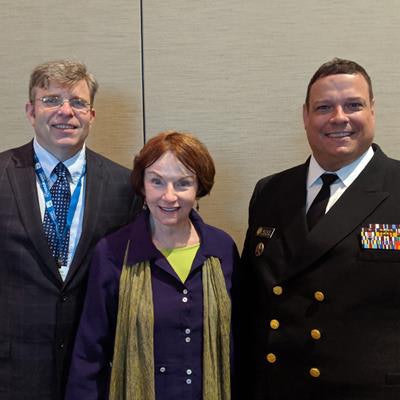 SAN FRANCISCO - The first U.S. surgeon general's report on oral health in 20 years is coming out in 2020. Top U.S. dental leaders spoke about why the report will be essential reading for all dental professionals at the 2019 ADA FDI World Dental Congress.
The report will consist of six key areas, covering everything from changing workforce models to new technologies. Presenters included Timothy Ricks, DMD, MPH, chief dental officer of the U.S. Public Health Service; Bruce Dye, DDS, MPH, dental epidemiology officer of the National Institute of Dental and Craniofacial Research; and Judith Albino, PhD, principal investigator and director of the Center for Native Oral Health Research.
"It would be unwise for any practicing dentist to say, 'That's another government report that I don't need to worry about,' " Dr. Dye told DrBicuspid.com. "This one's different."
The U.S. Centers for Disease Control and Prevention (CDC) published the original, landmark surgeon general's report on oral health in 2000. In the intervening 20 years, dentistry and the U.S. have changed considerably.
Corporate dental chains have grown more prominent, dental student debt has skyrocketed, and some states have experimented with new workforce models. In addition, more research has shed light on oral health disparities among different groups of people.
"It would be unwise for any practicing dentist to say, 'That's another government report that I don't need to worry about.' "
— Bruce Dye, DDS, MPH
"Understanding these disparities and really struggling to find ways to address them is a message we're all going to want to pay attention to," Albino told DrBicuspid.com. "That will affect [dental] practice as well because we're going to need, as an entire community of healthcare providers, to decide how we make sure that oral health is something that all can experience and benefit from."
Broader trends outside of dentistry also are posed to transform the profession. An aging population and emerging public health threats, such as the opioid crisis and the rise of oral HPV infections, will affect the types of patients that dentists see every day.
"The profession is going to change -- that is a given," Dr. Dye said. "Twenty years from now, the way dentistry is practiced will be different, and it will be different because of these forces that we cannot control."
Since the CDC announced the upcoming report two years ago, nearly 400 individuals and multiple organizations have contributed comments and insights. The report itself will consist of an introduction followed by six key sections, each with a different section editor:
Effect of Oral Health on the Community, Overall Well-Being, and the Economy (Robert Weyant, DMD, DrPH)
Oral Health in Children and Adolescents (Paul Casamassimo, DDS)
Oral Health in Working-Age Adults and Older Adults (Jocelyne Feine, DDS)
Oral Health Integration, Workforce, and Practice (Kathy Atchison, DDS, MPH)
Substance Use Disorders, the Opioid Epidemic, High-Risk Behaviors, and Mental Health (Christian Stohler, DMD, DrMedDent)
Emerging Technologies and Promising Science to Transform Oral Health (Laurie McCauley, DDS, PhD)
The presenters hope the report will prompt discussion and action among dentists, dental team members, researchers, and even nondental professionals.
"We certainly hope that when the report comes out people will pay attention, that they will discuss it, that they make a point to seeing it gets discussed among their professional groups -- formally and informally," Albino said.