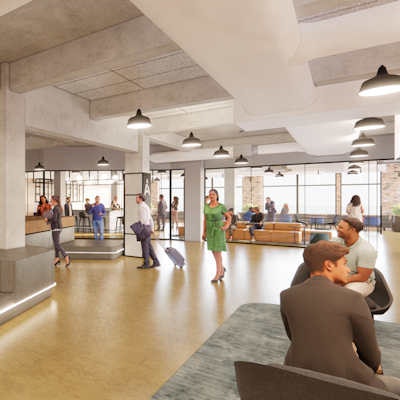 This summer, Aspen Dental's parent company, TAG - The Aspen Group, will open a dental clinic in Chicago offering free care to underserved populations. It wouldn't have been possible without changes to the state's dental practice act allowing licensed dentists from other states to practice in Illinois for a few days per year.
Located in Chicago's West Loop, the TAG Oral Care Center for Excellence is expected to serve approximately 2,500 patients every year. The new 25,000-sq.-ft. clinic will have the latest dental care technology, and its team of dentists and dental support staff will provide free services and comprehensive dental procedures to underserved populations.
To qualify for free care, patients must be Illinois residents who are eligible for Medicaid or who are uninsured and whose household income is less than 200% of the U.S. poverty level, according to Julie Frantsve-Hawley, PhD, executive director of the TAG Oral Care Center for Excellence. However, the clinic does not intend to seek Medicaid reimbursement.
"Through the TAG Oral Care Center, we will be providing comprehensive dental care to underserved, low-income Illinois residents," Frantsve-Hawley told DrBicuspid.com. "For patients who meet these eligibility criteria, services will be free. TAG will not bill patients or seek reimbursement from Medicaid."
Changing the law
The clinic was made possible, thanks to amendments made to the Illinois Dental Practice Act allowing dentists from throughout the U.S. to work on Illinois residents through TAG education and training programs.
State lawmakers proposed HB 690, a bill that amended the Illinois Dental Practice Act to permit dentists with licenses outside of the state to practice in Illinois for a few days per year. In August 2021, Gov. J.B. Pritzker signed the bill into law.
Under the new law, dentists who aren't licensed in Illinois can work on patients at the clinic as part of their continuing education programs. The law requires visiting dentists to have graduated from a program approved by the ADA's Commission on Dental Accreditation and maintain a license or equivalent authorization to practice dentistry in good standing.
Additionally, the state will grant a temporary permit to a visiting dentist for a maximum of five consecutive days. Temporary permits can be issued once per year to a dentist, and it can be restored only once within five years of the initial permit being issued.
Furthermore, the law requires a temporary visiting dentist to enter into a written collaborative agreement with an Illinois dentist who will be cotreating patients at the center. The agreement, which will become part of a patient's dental record, must include a description of the care and procedures that the visiting dentist will perform. Also, a supervising dentist cannot oversee more than five trainees, according to the law.
How the clinic fits within TAG
Newly appointed executive director Frantsve-Hawley, who has more than 20 years of experience in public health dentistry and research and is an adjunct assistant professor at Temple University's Kornberg School of Dentistry, will oversee the center.
Under the leadership of Frantsve-Hawley and in conjunction with a clinical faculty of dentists and dental specialists, the center will educate hundreds of licensed dentists from independently owned Aspen Dental and ClearChoice Dental Implant practices across the U.S.
"The TAG Oral Care Center for Excellence will fill this critical gap for thousands of underserved patients in Illinois, and I am certain our work will give both our patients and the providers who we support something to smile about," Frantsve-Hawley said in a press release.
Currently, TAG, which consists of Aspen Dental, ClearChoice, WellNow, and Chapter, operates more than 1,100 locations in 45 states. Combined, the companies serve more than 35,000 patients per day and more than 8 million patients each year.