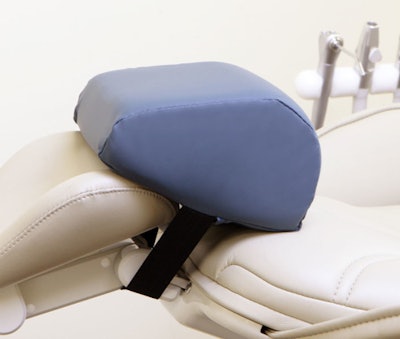 Crescent Products has launched its new low-profile headrest.
The headrest supports the patient's head and neck while ergonomically positioning the patient to preserve the dentist's best working posture, according to the company.
Designed to function with a double-articulating dental chair, the headrest can be used with adults, children, and seniors. The headrest measures 3.5-inches high, 6.24-inches deep, and 8-inches wide and comes in five colors. It can also be used to treat petite adults and children in a dental chair with a flat headrest.
The new low-profile headrest is the third in a series of headrests manufactured by Crescent that includes the company's original and geriatric headrests. All three headrests are interchangeable with the Crescent Bodyrest system, which has four integrated pads that fit easily into existing dental chairs: headrest, chair pad, backrest, and knee support. Used together, thee pads offer patients comfort while facilitating access to the oral cavity for dentist and hygienists, according to the company.