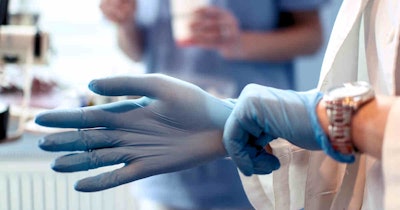 Darby Dental Supply parent company Darby Group Companies will distribute DenTouch gloves from U.S. manufacturer American Nitrile.
The gloves contain patented compression tip technology that aims to improve dexterity and simplify handling of the small, intricate instruments used by dentists and dental hygienists.
With all manufacturing and research and development taking place in the U.S., American Nitrile ensures ethical labor practices and sustainable manufacturing processes during production and eliminates unpredictable trans-Pacific shipping and port delays. Additionally, the company emphasizes sustainability, recycling up to 40 gallons of water per case of gloves and using 100% recycled and recyclable cardboard packaging.