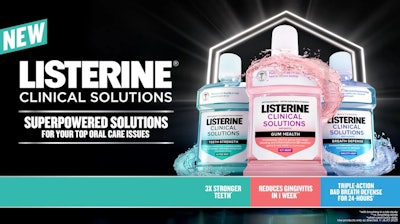 Kenvue will showcase a new mouthwash line at ADA SmileCon 2023, which will be held in Florida October 5-7.
The new Listerine Clinical Solutions line consists of these three mouthwashes: antiseptic gum health, breath defense, and teeth strength.
The antiseptic gum health rinse, which contains more zinc chloride than other Listerine products, aims to help optimize the oral microbiome without altering healthy salivary flow or oral pH. The breath defense mouthwash contains zinc chloride and technology formulated to neutralize and transform odor molecules, as well as four essential oils. Lastly, the teeth strength variety is powered by rapid fusion technology that aims to provide a stronger tooth surface through increased fluoride uptake and promoting remineralization, according to the company.
Show attendees who visit the company's booth can sample the products before they are available in Walmart stores in the U.S. at the end of October. They will be available at other stores in early 2024.