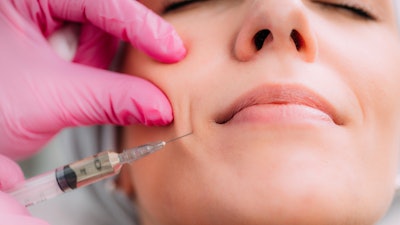 Dermal fillers may lead to delayed onset inflammation that can develop near the injection site following dental procedures, according to a recent update that the U.S. Food and Drug Administration (FDA) made to its website.
On July 6, the FDA added information to the soft-tissue filler section of its approved medical device page. The new information includes reports of delayed inflammation, like swelling or redness, that can develop near the injection site following viral or bacterial illnesses or infections, vaccinations, or dental procedures. Typically, the inflammation patients experience either responds to treatment or resolves on its own, according to the FDA.
Though these risks are considered uncommon, it is important that patients understand the limits and possible risks of dermal fillers. Therefore, the agency urges consumers and patients to discuss all treatment options, including dermal filler procedures, with their healthcare provider to understand the benefits and risks linked to the use of these medical devices, according to the site.
Nevertheless, the agency noted that any dermal filler may cause temporary or permanent side effects, or both. Most side effects linked to dermal filler injections, including swelling and bruising, occur shortly after injection and many resolve in a few days to weeks. Sometimes, side effects from soft-tissue fillers may appear weeks, months, or years after injection, according to the FDA.