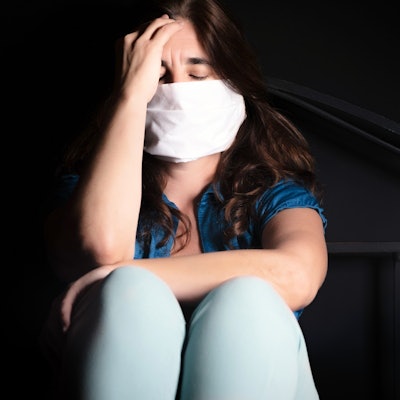 About 4 in 10 dental hygiene students in the U.S. reported moderate or severe levels of depression, and nearly 1 in 10 reported thinking about suicide in the last year, according to a study published on November 16 in the International Journal of Dental Hygiene.
The students reported high levels of stress and emotional and mental concerns that may elevate suicidal tendencies, the authors wrote.
"As stress, depression, and anxiety continue to rise globally across our higher educational institutions, testing is warranted at multiple points throughout the dental hygiene program to identify stress, anxiety, depression, and burnout before the manifestations of psychological and physiological symptoms," wrote the authors, led by Judith Beck, MS, of the University of North Carolina at Chapel Hill Adams School of Dentistry.
Worldwide, mental illness is a leading cause of disability, negatively affecting health outcomes and economics. By 2030, mental health conditions are estimated to have a $16 trillion cost on the global economy. The U.S. is the fourth-most-depressed country in the world. Ukraine ranked first, followed by Estonia and Australia, according to 2021 statistics from the World Health Organization.
Though oral health professionals have always experienced burnout and related problems, the COVID-19 pandemic amplified their ongoing mental health struggles. Research has shown that during the peaks of COVID-19 transmission, dentists and hygienists frequently reported poor mental health. However, hygienists reported higher rates of anxiety and depression.
To better understand how stress affects students in their professional healthcare programs, researchers assessed responses from 123 first- and second-year dental hygiene students in the Southeastern U.S. from an online mental health survey disseminated in the fall of 2019. Of the participants, 96% were women, about 81% reported English as their first language, and approximately 46% worked while enrolled in a full-time education program, according to the study.
Overall, 43% of dental hygiene students reported moderate or severe levels of depression, and 9% reported thoughts that they would be better off dead or injuring themselves in some way, the authors wrote.
More than 30% also reported sleep difficulties, little interest in doing things, feeling down and feeling tired, and about 8% reported they had contemplated suicide in the last 12 months, they wrote.
The study had several shortcomings, including the potential for bias. Students may have been hesitant to answer honestly due to the sensitive nature of the subject, the authors wrote.
In the future, studies should be conducted to prioritize best practices for identifying students who may need personalized psychological help, as well as strategies that can improve personal and social functioning so students can achieve their academic goals and advance their personal development, they wrote.
"Through early identification of students in distress, the psychological and physiological manifestation of stress that contributes to mental illness may be curtailed before a mental health crisis arises," Beck et al wrote.