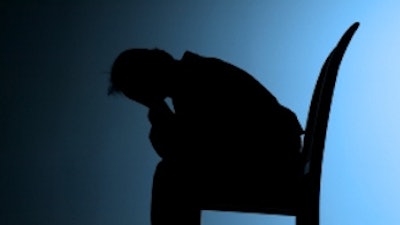 Nearly 20% of dental professionals reported thinking about taking their own life in the preceding 12 months, and about 6% reported ever attempting to take their life, according to an Australian study that was published recently in Community Dentistry and Oral Epidemiology.
Several factors, including gender, illicit substance use, and mental health issues increased the odds of suicidal ideation. Therefore, dental team members' mental health should be monitored, and tailored programs should be developed to provide necessary interventions and support, the study's authors wrote.
"These finding[s] highlight a high prevalence of suicidal ideation amongst Australian dental practitioners," wrote the authors, led by Matthew Hopcraft, PhD, of the Melbourne Dental School at the University of Melbourne in Australia (Community Dent Oral Epidemiol, February 22, 2023).
Due to demanding technical skills, scheduling pressures, meeting patient expectations, and other factors, dental team members work in stressful environments. Additionally, the fear of malpractice, patient complaints, and the ongoing pressures of running a small business add to their stress.
The COVID-19 pandemic further burdened dental teams. In the U.S., the mental health of dentists and hygienists fluctuated throughout the pandemic, potentially putting themselves at risk of burnout or worse.
To explore factors associated with suicidal ideation and suicide attempts among dental practitioners, 1,474 dentists, dental hygienists, dental therapists, dental specialists, oral health therapists, and dental prosthetists completed online surveys. Of the respondents, 1,052 were dentists, 118 were dental specialists, 165 were oral health therapists, 54 were dental hygienists, 46 were dental therapists, and 39 were dental prosthetists.
Participants were asked about their thoughts of suicide in the preceding 12 months and prior suicide attempts. The study was conducted between October and December 2021.
Overall, approximately 18% reported thoughts of suicide in the preceding 12 months, about 31% reported having suicidal thoughts prior to the preceding 12 months, and nearly 6% reported ever having made a suicide attempt.
In multivariate models, the odds of suicidal ideation in the preceding 12 months were higher in dental practitioners who were male (odds ratio [OR] = 2.01), had a current diagnosis of depression (OR = 1.62), were experiencing moderate (OR = 2.76) or severe psychological distress (OR = 3.58), had self-reported illicit substance use (OR = 2.06), or had previous self-reported suicide attempts (OR = 3.02), the authors wrote.
Nevertheless, the study had several limitations. It did not address help-seeking behaviors directly related to suicidal ideation, so it is unknown which respondents actively sought mental health support, they wrote.
"It is, therefore, important to quantify the mental health profile of dental practitioners and to identify potential at-risk practitioners, in order to advocate for and provide appropriate interventions and support services," Hopcraft et al concluded.