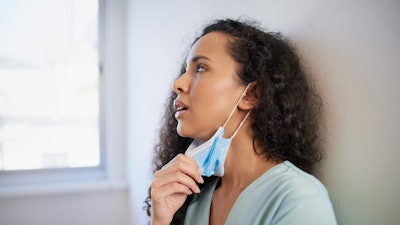 U.S. dental students experience burnout, but men and women experience it differently. Women report more emotional exhaustion, while men report more depersonalization, according to a large study, which included students from more than 20 schools, that was published on April 19 in Journal of Dental Education.
Identifying students at higher risk of burnout can facilitate the implementation of effective intervention strategies, the authors wrote.
"Such identification can also provide insight into how the dental school environment might be contributing to the marginalization of those at higher risk," wrote the study's lead author, Matthew Finkelman, PhD, of the Tufts University School of Dental Medicine in Boston.
A high prevalence of burnout, which is believed to be caused by chronic and unmanaged stress, exists among dental students and purportedly surpasses its frequency among medical students. Furthermore, burnout is linked with poorer academic performance, well-being, and lower levels of work engagement in dental students.
It's therefore critical to study burnout in dental students. Also, identifying the risk factors of burnout could trigger changes in dental schools' policies and practices to support equity and inclusion, the authors remarked.
To explore how dental students are affected by burnout, the authors assessed the survey responses of 631 students from 21 dental schools in the U.S. using the Maslach Burnout Inventory-Human Services Survey. The Maslach survey assesses burnout based on emotional exhaustion, depersonalization, and personal accomplishment. Multivariable models were then conducted, according to the study.
About 89% of the students were between the ages of 20 and 29, and about 57% were women. Approximately 64% reported being single, did not bear responsibility for any family members (83%), and worked an average of fewer than 10 hours per week with patient contact (56%). The responses were provided by students in every region of the U.S., they wrote.
Female students reported feeling significantly greater emotional exhaustion (regression coefficient [95% confidence interval]: 0.18 [0.10, 0.26]) but significantly less depersonalization (−0.26 [−0.44, −0.09]) than male students, the authors wrote.
The study had multiple limitations, including that burnout was self-reported instead of identified via a clinical interview. However, some researchers have said that self-reporting is more valid than is commonly believed, they wrote.
In the future, additional studies should include qualitative data like interviews and focus groups so there is a better understanding of why some dental students are at a greater risk of burnout than others, the authors wrote.
"Approaches to achieve a greater sense of belongingness, authentic equity, and inclusion in dental schools' policies and practices should be examined and implemented, which might aid in reducing student burnout among other positive consequences," Finkelman et al wrote.