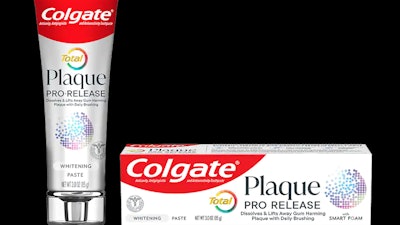 Image courtesy of the Colgate-Palmolive Company.
Colgate-Palmolive has introduced Colgate Total Plaque Pro-Release, a new toothpaste that is formulated to significantly reduce plaque and offers 24-hour antibacterial protection after 2 weeks of daily brushing.
The toothpaste, which contains stannous fluoride, includes Smart Foam technology that is designed to penetrate hard-to-reach places and fight plaque-causing bacteria along the gumline. The toothpaste is available in two varieties, whitening and fresh mint, and is sold throughout the U.S.