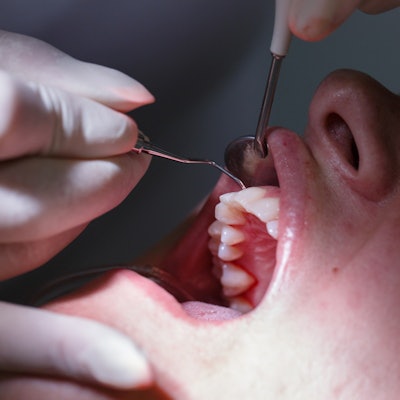 A $2.4 million grant from the U.S. National Institutes of Health's National Institute of Dental and Craniofacial Research (NIDCR) will conduct a clinical trial that explores the use of antibiotics in combination with other therapies to treat periodontal disease.
Dentists often use systemic antibiotics in combination with deep cleanings to treat periodontal disease; however, the data are unclear about the benefit of antibiotics. With the rise of antibiotic-resistant bacteria strains and related deaths, some researchers are questioning the need for and safety of adjunctive antibiotics for some patients.
The University of Texas (UT) Health Science Center at San Antonio and the ADA Science & Research Institute (ADASRI) will use the four-year NIDCR grant to generate real-world data on periodontal disease treatments supplemented by adjunctive antibiotic therapy, according to a press release dated April 27 from UT.
"This new trial is expected to have a major impact on reducing antibiotic misuse in dentistry, which contributes to antibiotic resistance," Dr. Georgios Kotsakis, MS, associate professor of periodontics at the UT Health San Antonio School of Dentistry, said in the release.
The trial, which is expected to begin in spring 2023, will recruit more than 30 clinicians who belong to the National Dental Practice-Based Research Network to collect data. A total of 1,050 periodontal patients who receive dental care in practices across the U.S. will be enrolled in the trial, treated, and followed for about one year, according to the release.
Dentists will share clinical and patient experience data about the efficacy of the antibiotics they administer. The data may be used to develop evidence-based clinical guidelines that offer treatment alternatives and support antibiotic stewardship.
ADASRI CEO Dr. Marcelo Araujo, PhD, who will serve as a co-collaborator, said the trial is an opportunity to apply recommendations found in antibiotic-related guidelines released by the ADA, including its 2015 guideline about the use of antibiotic prophylaxis prior to dental procedures in patients with prosthetic joints and its 2019 guideline for using antibiotics to manage dental pain and intraoral swelling.
Sign of more antibiotic research to come?
Antibiotic use has become a hot topic in dentistry, especially as it applies to patients with prosthetic joints. In a commentary published in April in the Journal of the American Dental Association, a group of dentists and doctors called on the ADA and the American Association of Orthopaedic Surgeons to reevaluate the use of antibiotic prophylaxis for patients with prosthetic joints.
The appeal comes on the heels of a noteworthy new study published in January in JAMA Network Open that showed no meaningful relationship between invasive dental procedures and subsequent joint infections among patients in England. In that country, surgeons have never recommended the use of antibiotics to prevent late-stage joint infections.
Based on the new findings, the commentary authors called on the ADA and AAOS to create a committee, review the data, and develop agreed-upon guidelines, which is something the associations haven't been able to do since 2003.
"Importantly, the results of the study will help dentists to make better treatment decisions for improving the dental health of their patients," Dr. Peter Loomer, PhD, dean and professor of the UT Health San Antonio School of Dentistry, said in the release.